WordPress SEO with our favourite WordPress Plugin Yoast SEO
You've gone to the effort - yes, I know how much effort it takes - to make some great content. Now, with a few more tweaks, we can make that content even better by tweaking it for the Search Engines (SEO) to improve your chances of being discovered.
Remember SEO, or Search Engine Optimisation, is done on a page by page basis. You will get some overall improvements for your site but it's important to note that people search using keywords and your website pages need to rank for those keywords.
When we set up your WordPress Website we installed Yoast SEO – our favourite WordPress Plugin for SEO.
It's also important to remember that User Experience is more important that SEO. If you make a change to the User Experience and Yoast SEO plugin gives you an "orange light", when you make the change, it may be better to ignore Yoast and go with your instinct.
Remember you are the expert.
WordPress SEO with Yoast
So, you've written your Post or Page and now you want to optimise it.
Scroll down to the bottom of the page where you'll find the Yoast SEO panel.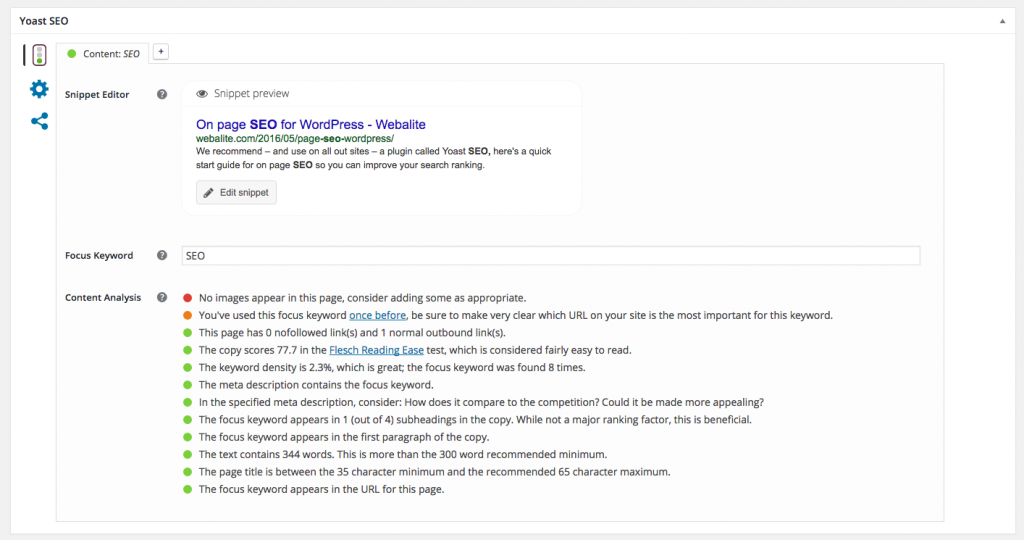 The Snippet Editor
The Snippet Editor shows the preview of what's displayed in Google. The more you optimise this title and paragraph the more people will click through (which will helps with your Page Rank). Add a Call to Action to motivate people to visit your site.
Focus Keyword
What's the keyword people search for to find your page or post? When you enter that Keyword Yoast SEO will analyses your page and make suggestions. These are suggestions - you can override them; it's good to test your content by making changes to see if you can improve engagement.
Content Analysis
As you work on your page you will see different coloured lights come and go. Use your keyword too often and you will get a Red Light and instructions on how many times you need to edit out that keyword. No image? Add an image with the keyword in the Alt tag. The more you play with your content the more you'll get a feel for SEO and it will become second nature.