Nobody really wants a website...
What you really want is more traffic, more leads, and more of the right type of customers to grow your business. And yes, you need a website to grow your business.
We're experts and we're here to help you.

How can we help you with your website?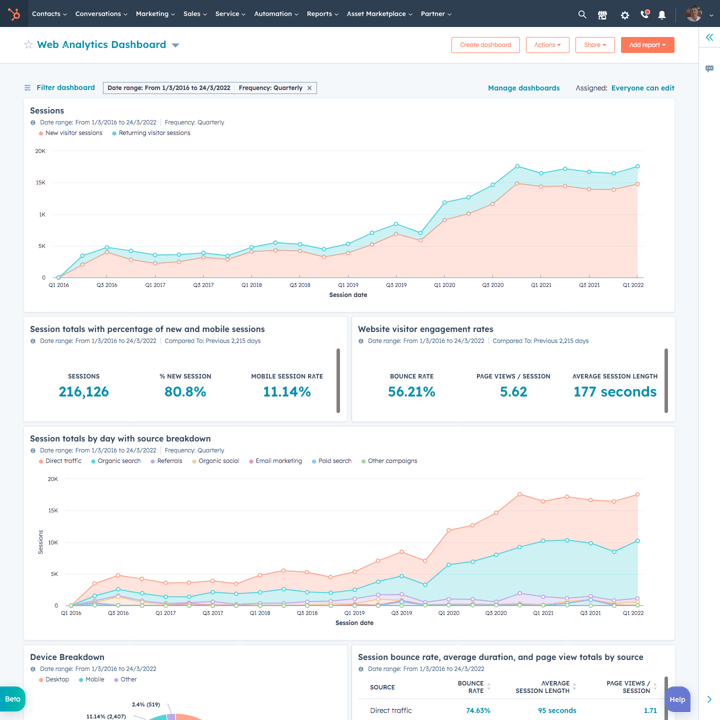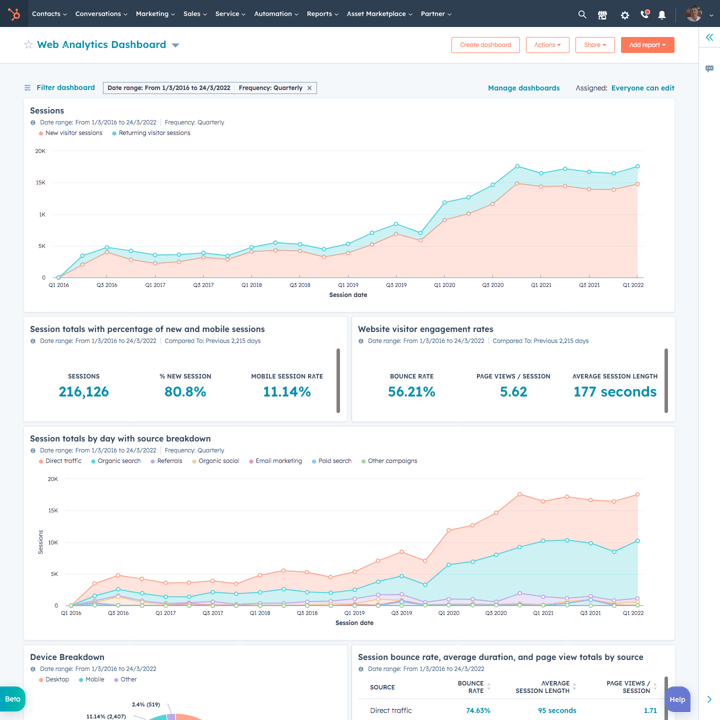 How can we help you with your website?
Over the decades we've built hundreds of websites, everything from small business sites to trading platforms, "brochureware" to marketing machines; for businesses, charities, and customers all around the world.
Over time Mike Eastwood, the founder of Webalite, noticed a pattern – many business owners just didn't have the time to add content to a site, post on social media, or run email marketing campaigns. Sometimes they'd even complain that their website wasn't working (we knew it was working because all our sites are monitored). The websites were working but they weren't working for the business...
That's when Mike had a BFO (a Blinding Flash of the Obvious):
"Nobody really wants a website.
What you really want is more traffic,
more leads, and more of the
right type of customer."
Yes, you need a website... long term you can't successfully grow your business without one. We now have a team of marketing experts to help you with your online marketing – including your site. Writers, videographers, web designers, advertising experts, and inbound marketing geeks help you get your site working for you by implementing plans, strategies, and tactics to drive traffic to your site and convert them into leads and customers.
Now, we're getting better results for our clients and making an impact on businesses like yours.
Why you need a website
Before you start working on your website you should ask yourself "what is the purpose of your website?".
Your website's purpose could be one or more of the following:
Help people get in touch with you quickly and easily.
Share information about your products or services.
Increase your authority in your market, making you the expert.
Attract new visitors to your website.
Generate leads for your sales team.
Help your sales team convert leads into customers.
Automate process and systems e.g. customer onboarding.
Business processes to your customers and team.
Your website is about your visitors, your leads, and your customers and their needs, wants, and desires. Your content is designed to help your visitors, connect with them, and help them along the buyer's journey.
Your website should be designed for your ideal customers – not you.
You may like a particular style, or look, but unless you represent your ideal customer, your style preferences are less relevant than the people you're trying to attract to your website.
Learn what your competition is doing
By conducting a market analysis you can compare your organisation to your competitors, improve your weak spots, and become a market leader. The analysis should be a broad overview of your organisation's market, looking at what your competitors are doing well, and what they may be missing.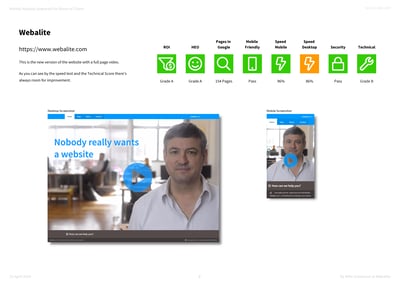 Market Analysis
Webalite's Market Analysis is a snapshot of your website which we then benchmark against the websites you select.
The market analysis uses 8 benchmarks to compare the websites. You will discover any issues with your website and be given insights on how to compete more effectively in your marketplace. You will receive an easy to understand printed report that you can share with your team.
Is your website an expense or an asset?
A website that fails to attract visitors and/or collect leads for your sales team is an expense – it costs you money. Conversely, if your website attracts visitors, converts them to leads, and helps your team land new customers, your website is an asset giving you a ROI (return on investment).
Webalite's Website Progression
No Website
Remember "progress over perfection". Let's get something online as soon as possible. Even a splash page with a little bit of content is better than nothing.
Splash Page
A holding page is great to hold the space and let Google know something's coming. Remember "progress over perfection", you need to publish content to compete online.
Online Brochure
In the early days of the web people put their brochures online. A good start but ineffective at attracting visitors and unlikely to generate any leads.
Authority Website
By publishing high quality, high value content regularly, you attract visitors and search engines. Rather than trying to outsell your competitors you should aim to out-educate your prospects, so you become the authority in your market.
Marketing System
When your website is delivering high value, useful, and engaging content, and collecting visitor's information, you will start to get a return on your investment.
Sales & Marketing System
When your sales team can see what your leads have been looking at, understand their needs, and help educate them as to why you're the best fit, your whole team and website is delivering results.
Remember – progress over perfection. A published website will outperform (by 100%) an almost-perfect website that's not yet published.
Unfortunately, your website will never actually be finished, however, your website can always be continually improving.
How do you know whether your website is working well?
There's no point in sending traffic to a leaky website. You may have issues with your website (that are invisible for normal people), that are reducing the amount of visits to your website and decreasing the number of people that sign up when they get to your website.
Both Google – and your website visitors – prefer fast, secure, mobile friendly websites. How do you know if your website designer, or developer, did a good job? How can you compete more effectively in your marketplace?
Learn the exact issues and opportunities with your website before you work on your marketing.
By auditing your website, you'll discover how well your site performs based on a number of factors, benchmarked against industry standards. You'll also learn how well your site can be discovered by search engines, and what you can do to improve your accessibility, performance, and user experience.
Improve your website today
Stop guessing what's wrong with your website and let one of our experts analyse your site for you.
We'll send you a comprehensive, jargon-free report with prioritised recommendations measuring everything that matters to the online success of your business.
Learn how you can outperform the competition, engage your visitors, generate more website leads, and more.
Which CMS (Content Management System) is best?
Over the last decade we've worked with several frameworks and tried dozens of CMSs for our businesses, and our clients. We've built our own websites in Adobe Contribute with Dreamweaver, Concrete CMS, Flash with Actionscript, Silverstripe, WordPress, Zend Framework modules, and several website-based CMSs that aren't worth mentioning. We've rescued clients from Drupal, Joomla, Rocketspark, Squarespace, Webflow, Wix and several bespoke solutions.
Every system has its pros and cons, and like all software, every system has some annoying points.
Regardless, we only work with the HubSpot CMS or WordPress now.
If you're deciding between WordPress and HubSpot CMS then you can read this comparison. If you're deciding between another CMS and HubSpot or WordPress – before you decide – you'd better talk to Mike (book a meeting).
In 2016, we decided to switch from WordPress to the HubSpot CMS. At the time we were not on the the cutting edge – we were on the bleeding edge. The original HubSpot CMS (or as they called it COS – Content Optimization System) was a hot mess.
After persevering for years – in 2022 – we built a site for a New Zealand property development in the HubSpot CMS. It was the first time I thought HubSpot had produced a world class CMS, and the client – a long time HubSpot power user – was really impressed. A few months later we produced this website, all based on the HubSpot CMS.


Website Design
Your website design is often the first impression your business will make on its potential customers. Therefore, it's important you get it right. Your design is also what differentiates you most from your competitors.
Branding
Your brand is much more than just a logo – your brand includes colour, typography, layout, and both visual language and written language.
When your brand is focused you can portray quality (high or low), status, price, service, and more. When applied consistently across all mediums e.g. website, brochures, etc. – your brand portrays consistency. Conversely if you have some content with old logos, or different brochures from different decades, your brand shouts a lack of care and consistency.
Remember – if you business targets low-cost high-volume customers, "high design" can actually discourage your potential customers the same way a cheap brand will detract from a high quality product.
We can design your website for you, or, work with your website designer
Mike's background in design means he and his team can implement your website from the ground up. We can use your style manual to make your site fit with your other collateral, or, work with your website designer (yes, we play well with others).
We have the combined skills to apply a variety of tools to suit your job. We can recommend an appropriate solution for your project and we will continue to offer you solutions during and after the job if something catches our eye and we think it would be the right fit for you.
All code is tested throughout the development process to ensure the website works consistently on iOS and Android, on phones and tablets, as well as laptops and desktops on both Apple and Windows.
We don't just host WordPress websites, we support you with WordPress
WordPress Supported Website
Your site will be installed in a custom environment designed exclusively to host WordPress websites in the cloud. Because the entire system is designed for WordPress your site is speedy, secure, and safe.
On top of the base system, we install a number of proprietary and other paid products to get the highest performance from your site.
We then add monitoring, analytics, and other reporting to ensure your site is delivering content quickly to your visitors.
We run automated and manual updates to ensure your site has the latest security patches and new features.
And, we support you in English (not geek-speak) on the phone and/or email.
If you want your site to go up, stay up, and be sorted as soon as there's an issue, you want a Webalite Supported Site.
Support – a real conversation with a real person who knows what they are doing. When you call, or email, your problem is solved as quickly and efficiently as possible by one person.
Secure – your site is protected, monitored, and maintained to ensure the highest security standards possible.
Simple – our systems are designed to remove the complexity. If you don't understand, we'll help you get your head around it – or offer a simpler solution.
SPAM-proof – your site is protected, monitored, and maintained to prevent SPAM on your site or inbox.
Service – when you call or email you deal with a real person, in New Zealand.
Stable – over the last decade we've tried numerous service providers around the globe, and we've narrowed things down to one reliable system so you don't have to worry.
Speed – our sites are built for speed using software and server technology. Once your site is running smoothly we will then optimise it again to make it even faster.
What should go on your website?
We know you want more leads, better sales, and enhanced authority in the marketplace. You can go a long way to achieving these goals by having top-quality, useful content based on a well-structured website.
There are several pages (almost) all websites should have. These include:
Homepage
About page
Contact page
Product page (if you offer products)
Service page (if you offer services)
Blog posts
Privacy Policy page
Terms of Service page
If this seems overwhelming, you're in the right place. Webalite's writers are here to help. We understand the importance of preparation and planning in creating compelling website content. We'll get to know you, your brand, your goals, and your audience so we can build an effective strategy for marketing your content online.
Click here to book a time to chat with someone from the team.
Not sure where to start?
Yes, there are a lot of moving parts – a lot.
So, we developed Webalite's Signature Programme which is a series of presentations and workshops to help you measure where you are, plan where you want to go, and we'll help you with the tools you need to get there – including a free trial of HubSpot Growth Suite (everything including the CRM, CMS, Marketing Pro, Sales Pro, Service Pro and more).
Learn more about