CRM Migration to your HubSpot CRM
Your organisation has a wealth of information in its CRM and legacy systems. By migrating this data to HubSpot, you can ensure your information stays intact while taking advantage of HubSpot's features and benefits. Bringing your legacy data with you will also make your organisation's transition to HubSpot smoother.
Kickstart Meeting

We'll meet to go over the migration plan. Your homework will be to provide us with access to your CRM.

CRM Audit

We'll review your current CRM setup to make sure everything can be migrated successfully into HubSpot.

Property Mapping

We'll map all the properties from your old CRM to their corresponding HubSpot properties.

1st Migration

We'll import your data into an intermediary database, so we can preserve the relationships and process the data. We then transfer the data into a Staging Portal for testing and evaluation.

1st Quality Assurance

In the Staging Portal we'll run spot checks on your data in HubSpot, comparing your data to your old CRM. You can check too.

2nd Migration

Once we're both happy with the test results, in the Staging Portal, we'll run the migration into your HubSpot Portal.

2nd Quality Assurance

We'll run another set of spot checks on your data in your Live HubSpot Portal, comparing your data to your old CRM.

Next steps

Need more help with HubSpot? We're happy to help with a range of products, programmes and plans.
This process ensures the most reliable migration possible. The tools and techniques we use will preserve your data and maintain the relationships in HubSpot. And, your team will be able to access your historical information from inside HubSpot.
What information can be migrated into HubSpot?
Different CRMs have different names for the data e.g. a contact may be called a person in Capsule CRM. While the names and structure will vary between CRMs, the data is usually similar.
People – HubSpot's term is contacts. You can import anyone into HubSpot. We recommend importing contacts with an email address because HubSpot uses email addresses for deduplicating contacts.

Organisations – HubSpot's term is companies. This is a group of related contacts.

Financial Information – HubSpot's term is deals. A deal stores any financial transactions that occur during your sales process. You will still need an accounting system to manage your finances. Deals are useful during the sales process, for reporting, and KPIs.

Support Tickets – HubSpot's term is ticket. A ticket tracks any issues you've logged for a customer.

Notes – HubSpot shows notes on the contact's timeline. If your CRM can export notes, we can import them into HubSpot.

Emails – HubSpot shows historical emails on the contact's timeline. If your CRM can export emails, then we can import them.

Meetings – HubSpot records meetings on the contact's timeline. Depending on which CRM you have, we can import these objects.

Custom – HubSpot Enterprise allows you to create custom objects which can be imported into HubSpot. The custom objects can be created based on the structure of your CRM object.
"Nothing short of the best implementation specialist I've worked with in 25+ years."
– Greg Habstritt, JLM Talent Partners, USA
IMPORTANT: Not all CRMs can export all objects. During the CRM Audit we'll review all objects in your CRM and HubSpot to see what's possible. If you'd like to know before the migration, please let us know.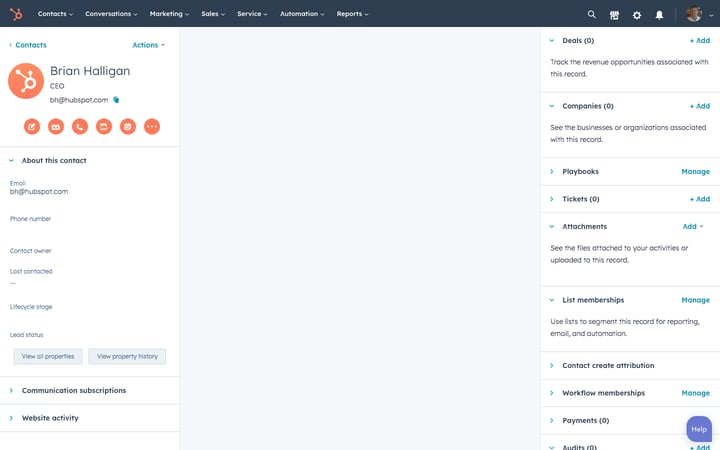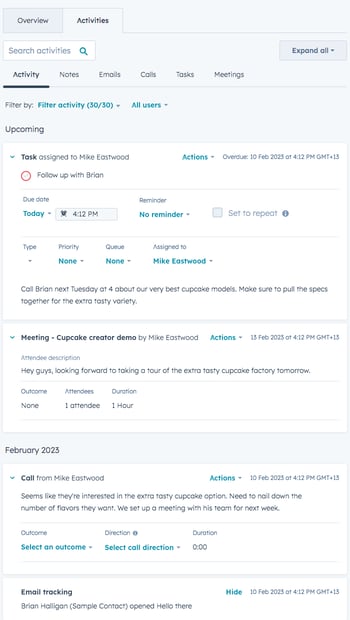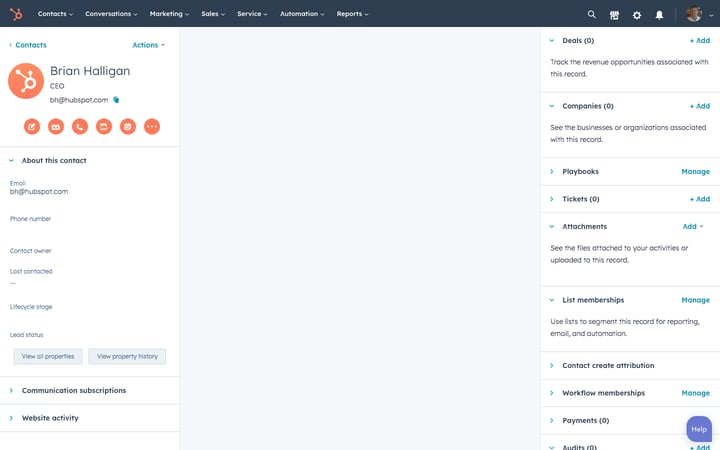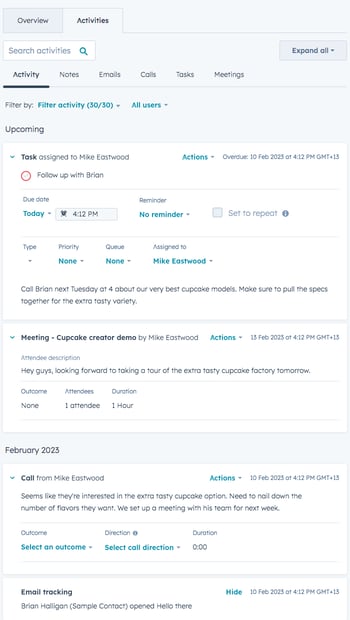 HubSpot CRM Migration FAQs
Which CRMS, or systems, can we migrate from?

We've imported data into HubSpot from Capsule CRM, Sugar CRM, Zoho, Infusionsoft, Active Campaign, Pipedrive, Legacy Systems, Spreadsheets, Mailchimp, and even other HubSpot Portals. If your CRM can export data, we can review your CRM to see if it's possible.

Do you offer data cleaning?

Often data will need to be cleaned up in your old CRM before we can migrate it into HubSpot. The work involved will vary depending on how many contacts you have, how many people are on your team, and how long you have been using your old CRM. If you want to automate some of the data cleanup we're happy to quote additional work.

Will you store our data?

No, once the data is imported into HubSpot we can delete any copies of your data. We recommend you keep backups of the data (which we can supply you).

What other costs are there?

If you are subscribed to HubSpot Marketing you will usually increase your contact count which can increase your monthly invoice with HubSpot.

How do I avoid increasing our contact count so we don't pay more for HubSpot every month?

If you are importing historical data for reference only, we can import the contacts and non-marketing contacts. If you are marketing (emailing) contacts they will need to be set as marketing contacts (and you may increase your monthly cost). We're happy to make recommendations on the best way to manage this.

Please note that some of the older HubSpot plans do not have the option to set non-marketing contacts. If you are not sure, we can check for you.

Can we keep the old data separate from new data?

No, when data is imported into HubSpot it will all go into the CRM. But, it's easy to add custom properties to the historical records so you can easily sort and filter the data.

Will our old data be overwritten by the new data?

When HubSpot imports objects (contacts, companies, etc.) it will update the contact if they are already in HubSpot, or, add them if they are not in HubSpot. HubSpot de-duplicates contacts based on their email address, and de-duplicates companies based on their domain name. If you need to maintain separate records we can import and associate objects without email addresses or domains.

How long does it take?

The time involved will depend on several factors including the amount of data, the complexity of the original data set, and how much data cleaning is required. Typically, it takes 2 – 3 weeks. Once we've run the audit we'll know exactly how long it will take.

How is Webalite's service different from automated services?

Unlike other import software, we audit your data and make recommendations on best practices based on our experience with HubSpot and other systems. We process the data, add it to a database to preserve the relationships, and then review the results.

Some automated import tools push everything into HubSpot so you end up with a mess in your new HubSpot Portal. We believe it's better to have accurate data records than it is to have a lot of data.

Also, other services only run a single migration, there is no undo. We migrate to a staging portal which provides you with the opportunity to fully test your data in the HubSpot ecosystem before it moves into your live HubSpot Portal.

Can we run two CRMs?

It really is best that you are only using one CRM. However, we recommend keeping your old CRM for a while after the migration so you can refer back to it if you find any issues. We retain identifiers from the old system to make it easier to reference the CRM data.

Can we link HubSpot to our legacy system?

Yes, we've done that before. Linking between HubSpot and your legacy CRM will depend on the capabalities of your old system and what you want to achieve. Either Ops Hub or a custom integration is needed to manage the data.
Pricing to migrate your data to HubSpot
Webalite offers a fixed price for imports of 10,000 items or less. If your CRM has more than 10,000 contacts, companies, deals, notes, etc. we can work out a custom price for you.
The price to import up to 10,000 objects (contacts, companies, deals, etc.) is $3,369 NZD (plus GST if you are in New Zealand).
We keep your information confidential and secure. Any information you share with Webalite is used to help improve our our products or services. For more information please view our Privacy Policy.