HubSpot is the ultimate system for sales, marketing, support and more.
Let's leverage the power of HubSpot today – start with a digital strategy, streamline your systems, systemise your sales, then scale with marketing.
*HubSpot Is a Registered Trademark of HubSpot Inc.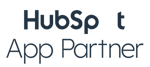 How can we help you with HubSpot?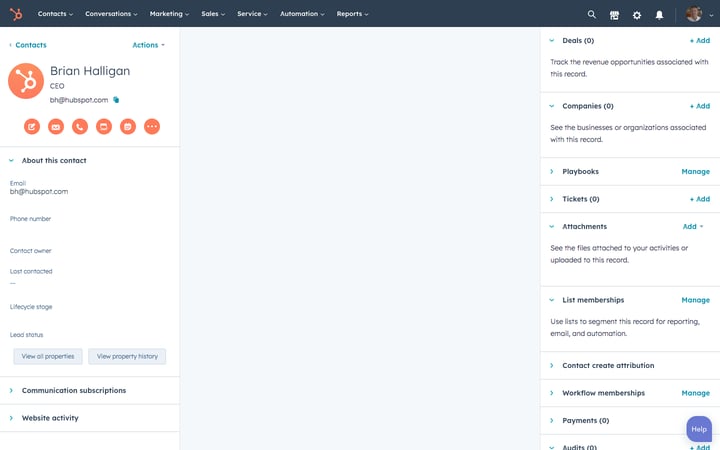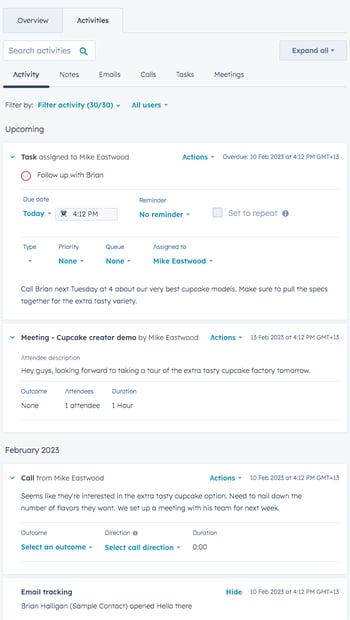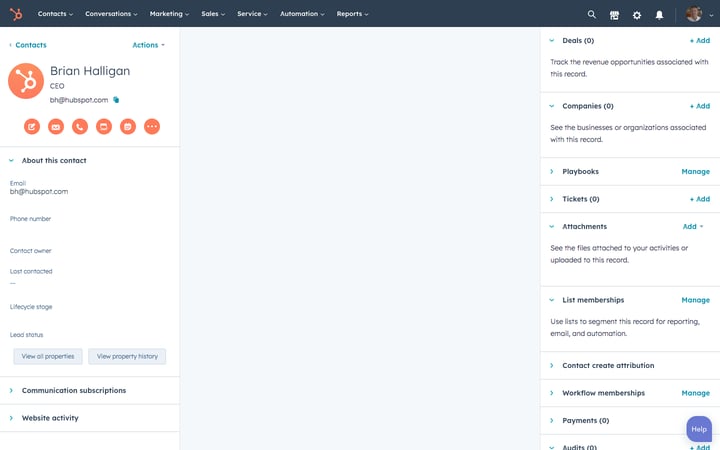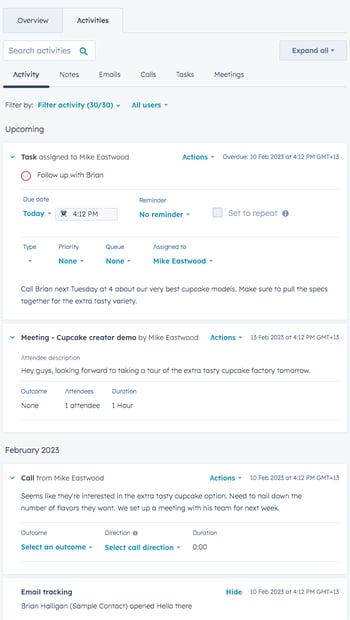 How can we help you with HubSpot?
HubSpot is an online platform that helps businesses with marketing, sales, service, and operations. The system is modular and rich with tools to help you attract visitors to your website, convert visitors into leads, and nurture those leads until they are ready to buy.
Technically, HubSpot is a suite of apps (or Hubs) that connect together – via the HubSpot CRM – to create a platform. You can also connect your business software, website, social media, and advertising platforms to unite all your business information.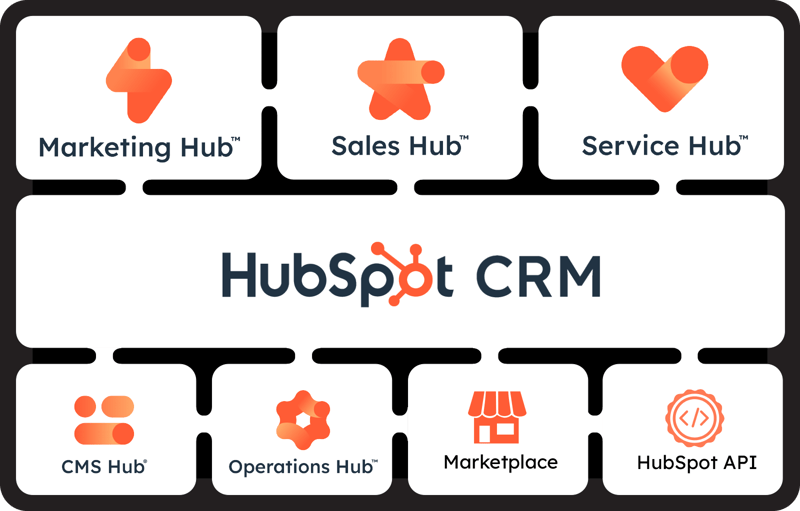 CRM (Customer Relationship Manager)
A full CRM to help you keep on top of your interactions with your prospects, leads, opportunities, and customers. The CRM manages your contacts, companies, deals, tickets, tasks, etc. And, your CRM is connected with other Hubs (sales, marketing, and service) so all your data is in one place.
Marketing Hub
The most powerful part of the system – in our opinion – is the Marketing Hub. Automate your marketing activities and run full campaigns using HubSpot's marketing software. Marketing Hub connects your customers from the beginning of the buyer's journey right through to the after sales service.
Sales Hub
No matter how big or small your sales team is, you will get benefits from Sales Hub. You'll be able to manage your sales pipeline and close more deals using HubSpot's sales software. Sales Hub connects your contacts to your marketing and your CRM so you have all the information you need at your fingertips.
Service Hub
Service Hub is the customer service software to help you connect and nurture customers. The buyer's journey continues long after the buyer buys. When you deliver exceptional service your customers keep coming back and they refer you to other people.
CMS Hub
Your website is your shop window – open 24/7 – 365 days a year. The HubSpot CMS has a complete set of tools designed to help you build a fantastic digital experience for your customers by facilitating the creation, management, and modification of information on your website. And, HubSpot plays nicely with existing websites (especially WordPress) by using integrations.
Operations Hub
Operations software that enables your systems and team to work better together because you have better data. The better the quality of your data the less time you spend working on HubSpot and more time working with HubSpot to help your customers.
HubSpot Marketplace
HubSpot has a wide range of integrations and resources to help you connect marketing, sales, content management, and customer service. You can integrate your current tools with the platform to create a seamless finish.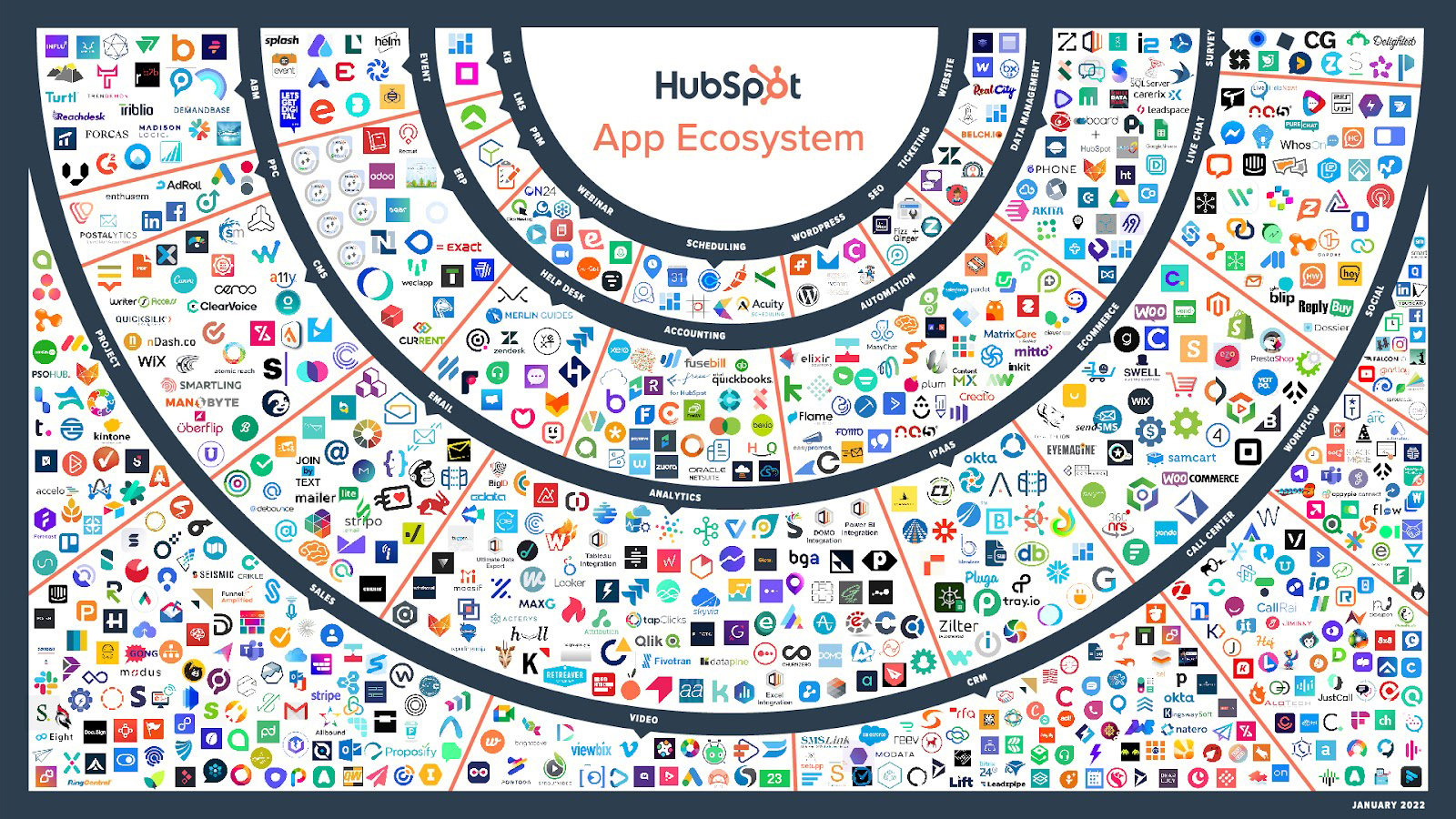 This is the 2022 version of Scott Brinker's famous diagram showing integrations with HubSpot.
HubSpot API
We can also work with you to develop and build a custom integration to suit your business's specific needs. If you can't find the integration you are looking for in the marketplace we can build an integration for you.
Why HubSpot?
After extensive research, months of testing, trying numerous different systems, we decided HubSpot was the best for our business and most of our clients (one size does not fit all).
Some of the systems we tried: Active Campaign, InfusionSoft (known as Confusion-soft so they rebranded to Keap), Insightly, Microsoft Dynamics, Salesforce, Zoho, and others not worth mentioning.
We've rescued customers from Active Campaign, Capsule CRM, Maximizer CRM, Pipedrive, Sugar CRM, Zoho, custom built systems, and even spreadsheets. We can migrate your CRM data from your old legacy system to HubSpot.
The HubSpot features we didn't think about and love
When you're looking for software there are some things you may not think of during your decision making process:
Customer Service
HubSpot's service is astoundingly good! When you are on a paid support plan you will get amazing service at incredible speed. When they say "We'll call back in 7 minutes" make sure you can take the call because they will call.
Knowledge Base
For starter or the free tier you'll be able to use the Knowledge Base to find answers to your questions. The documentation is clear, easy to follow, and they always look for feedback so the team at HubSpot can make improvements.
HubSpot Community
If you can't find an answer online, the HubSpot Community is the place to go to ask questions. There are tens of thousands of conversations with people from HubSpot, HubSpot Partners like Webalite, HubSpot users, and more.
HubSpot Academy
Learning new software takes time and effort. The HubSpot Academy does an incredible job with instructional videos, courses, and tutorials on how to use HubSpot as well as best practices for business. And, the Academy is free for everyone.
HubSpot is the world leader
According to G2 Business Software Review HubSpot is the market leader on the G2 Grid for Marketing Automation.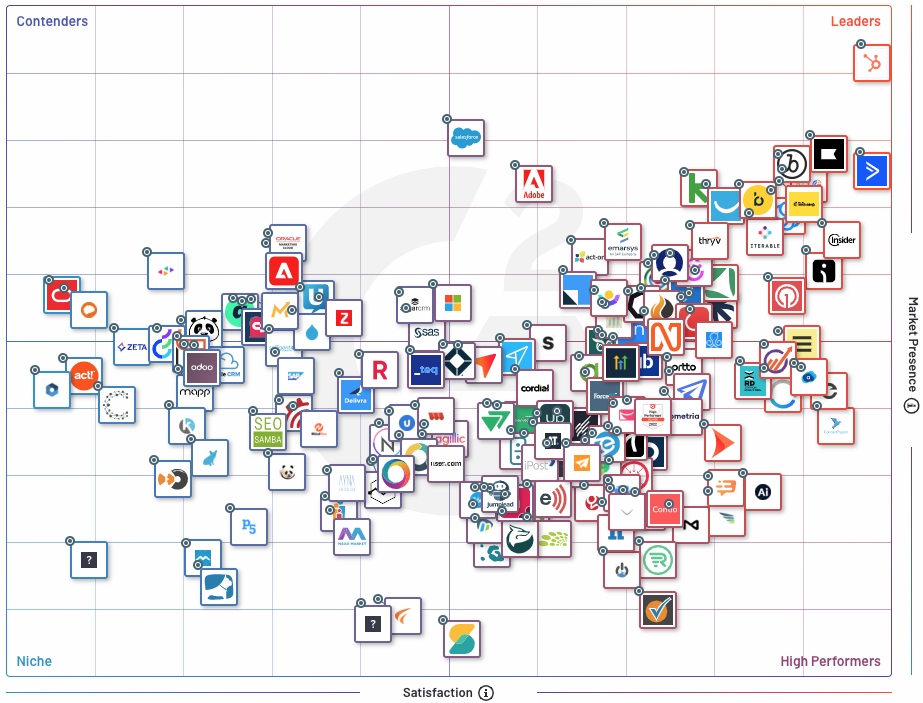 SOURCE: https://www.g2.com/categories/marketing-automation#grid
HubSpot's History
HubSpot is still only a teenager! This image – from 2020 – shows the history of the first 10 years. We jumped on board in 2016 and it's been an amazing journey.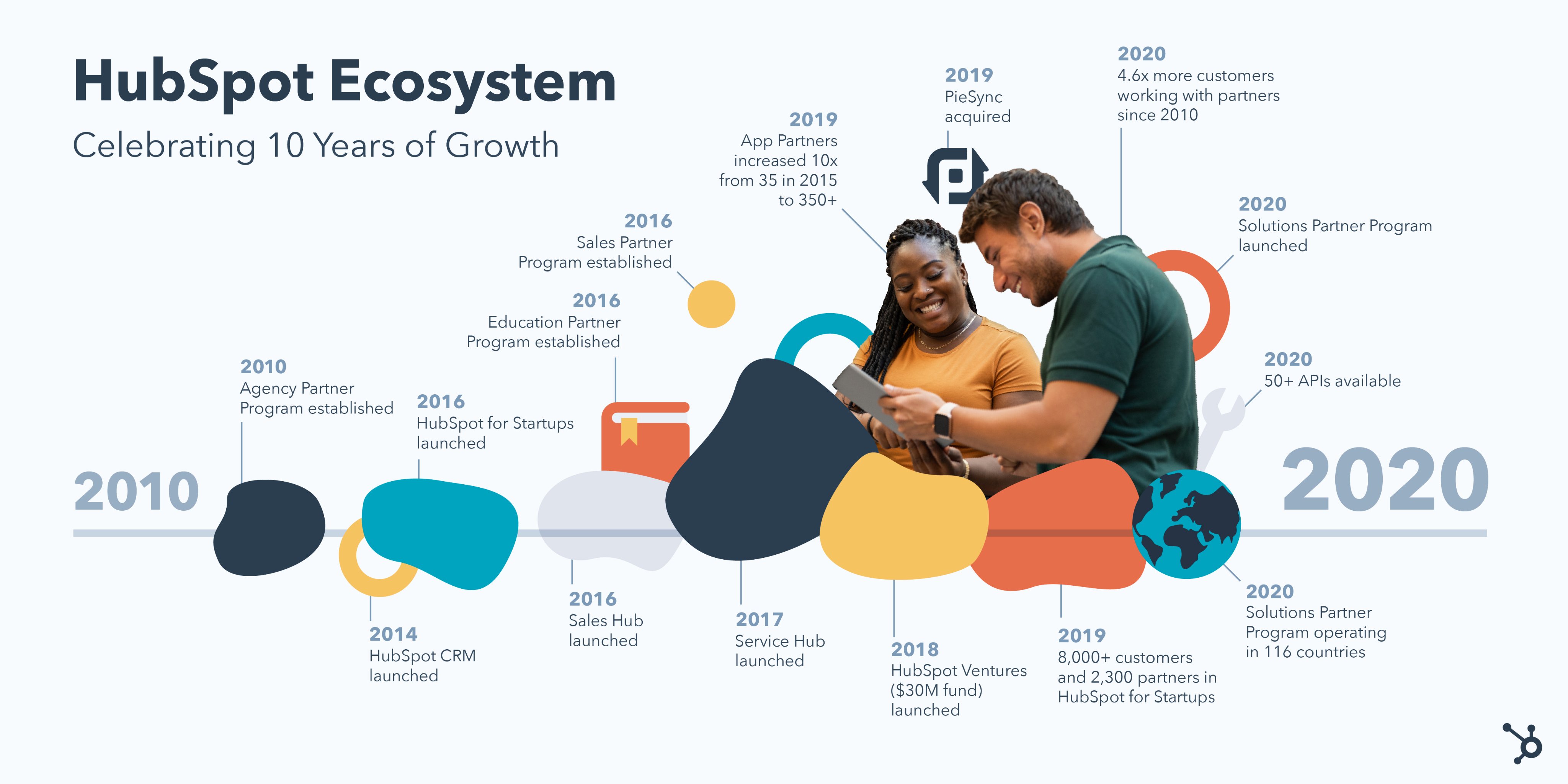 And the future of HubSpot?
One of the reasons we're committed to HubSpot is the continual improvement of existing products and features and the introduction of new features and even entire Hubs.
HubSpot dreams big and iterates. While writing this, Chat GPT has captured the world's imagination with Artificial Intelligence (A.I.) writing content. Weeks later and we're playing with an Alpha Product called ChatSpot which is answering questions, pulling reports, and making suggestions from inside our HubSpot Portal.
Webalite is a certified HubSpot Partner
We became a HubSpot Agency Partner because we thought HubSpot was the best Inbound Marketing System available. Now, after seven years, we see HubSpot as the best platform available because it includes marketing, sales, service, and website, all of which integrate with our other business tools.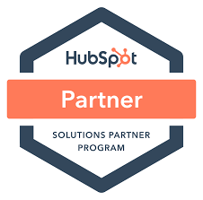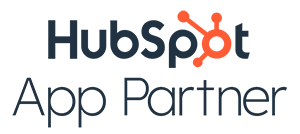 Webalite is a certified agency partner and certified app partner. Our founder, Mike, has also been recognised as a HubSpot Community Champion, since 2019, for helping other HubSpotters in the community.
"Nothing short of the best implementation specialist I've worked with in 25+ years."
–Greg Habstritt, JLM Talent Partners, Los Angeles, USA.
We work with businesses like yours to integrate HubSpot so you can get results – the way we have in our business.
How can we help you with HubSpot?
We've developed a range of products, programmes and plans to help you get the most out of HubSpot.
HubSpot Onboarding
HubSpot offers an abundance of different tools and features, which can be overwhelming if your business hasn't used a CRM before. When getting started with HubSpot, you'll need an onboarding plan in place.
For this, you have two options; onboard with HubSpot, or, with a HubSpot certified partner.
"[Webalite] customised the HubSpot Onboarding Programme for our team, to help us get up to speed with HubSpot."
–Creative HQ, Wellington New Zealand
Learn more about Webalite's
CRM Migration to HubSpot
Your organisation has a wealth of information in its CRM and legacy systems. By migrating this data to HubSpot, you can ensure your information stays intact while taking advantage of HubSpot's features and benefits. Bringing your legacy data with you will also make your organisation's transition to HubSpot smoother.
Learn more about our managed
Website Design and Development using the HubSpot CMS
HubSpot's Content Management System (CMS) Hub includes a range of tools designed to help you build a fantastic digital experience for your customers. This software will facilitate creating, managing, and modifying information on your website.
Using the CMS, we can build flexible, beautiful website themes that your marketing team can use to make website updates on their own, creating and personalising your website for every visitor. You'll be able to take ownership of your website without worrying about security concerns or broken pages, freeing you up to focus on the experience you're providing your customers instead.
Learn more about our design process.
HubSpot Audits
We often see HubSpot Portals that aren't achieving its business' goals. Find out if you're getting the most out of HubSpot with Portal-iQ. In 2022, the Webalite team developed Portal-iQ through the HubSpot App accelerator programme.
Portal-iQ quickly and seamlessly scans your HubSpot portal to provide you with a comprehensive report full of key recommendations and up-to-date data to help you maximise HubSpot for your marketing, sales, and customer support.
Learn more about HubSpot Audits.
HubSpot Training
Attract more visitors to your website, convert them into customers, and deliver an exceptional customer experience with Webalite's Signature Programme.
Over seven sessions we'll work with you and your team to review your digital strategy, systems, sales, and marketing. We'll analyse your website and your competitors then present our findings back to you. We'll run workshops to identify your target customers as well as their journey to becoming a customer and beyond. Also, we'll implement technology to measure the traffic on your website, and follow your leads through your sales process.
Learn more about HubSpot Training.
HubSpot Apps
By downloading HubSpot Apps you are able to integrate your business' systems so they work seamlessly with each other. Integrations automatically transfer information between different systems so you can be better informed, make better decisions, and analyse data to improve your business. They are usually automated which saves you time, eliminates stale data, and reduces the potential for errors that occur with manual data transfer.
To get started, you can browse apps available in the HubSpot App Marketplace. Here you can find integrations that have been approved and certified by HubSpot.
Custom HubSpot Integrations
When there's no integration to connect your system to HubSpot, you'll either need a Third Party Connector or a Custom HubSpot Integration.
A custom HubSpot integration is custom code which runs in the cloud, separate from HubSpot and the App that you want to sync data with. The custom code moves data – between HubSpot and your App – at scheduled intervals or in real time using APIs (Application Programming Interfaces).
Learn more about Custom HubSpot Integrations.
How much does HubSpot cost?
To unleash the full power of HubSpot you're looking at thousands of dollars per month depending on the the number of contacts you have and the Hubs you're wanting (marketing, sales, service, ops). This is ideal when you need automation for marketing, sales, service, and delivery. The automations save your team time by automating the repetitive tasks so they can work on more proactive tasks.
While we can get you started for free, you'll want to upgrade to Starter as soon as possible. HubSpot Starter unlocks more features, reduces some of the limitations of the free tier, and removes the HubSpot branding. We'd allow a monthly budget starting at $100 per month, also, depending on how many contacts you have and which Hubs you choose.
If you are looking at HubSpot book a time to talk with Mike Eastwood so he can recommend a setup so you invest in the right products at the right time. It's a significant investment – it needs to give you a return an ROI (Return On Investment).
Not sure where to start?
Yes, there are a lot of moving parts – a lot.
So, we developed Webalite's Signature Programme which is a series of presentations and workshops to help you measure where you are, plan where you want to go, and we'll help you with the tools you need to get there – including a free trial of HubSpot Growth Suite (everything including the CRM, Marketing Pro, Sales Pro, Service Pro and more).
Learn more about