Are you constantly having to delete mail because your inbox is full? Are you using Hotmail, Xtra, Yahoo or similar servers now seen as unprofessional in today's marketplace? Are you always up to your neck in spam? Are you missing appointments because your calendars aren't synched? Are you having to maintain an internal mail server?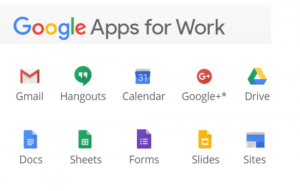 If this is the case then Google Apps For Business is about to make your company run smarter and your life a whole lot easier, allowing you and the team to focus on innovation and strategic initiatives instead of old-fashioned operational maintenance chores.
Google Apps For Business is a cloud-based productivity suite providing the flexibility for you and your team to work together anywhere, on any device, at any time. Enabling consistent, constant connection from computer to tablet to phone and even allowing customers their own access into systems however you may wish.
Including Gmail, Calendar, Drive, Docs, Hangouts, Sites and Vault in one integrated package that is easy to set up and manage, Google Apps For Business comes at the very low cost of $5 per user per month and can drastically reduce (or even completely erase) your existing license fee, hardware and data centre costs.
The ability to draft a proposal in Docs at the office, review it in the cab en-route to a meeting, then make any sudden last-minute edits from your phone whilst waiting in reception allows a flexibility you can make the most of and reap huge benefits from.
Boasting 30gb of storage per user across email and documents with a powerful search capability, simple and fast collaboration and messaging tools, sharing mechanisms within Docs, Sites, and Video, your business will move to an unprecedented level of cohesive information exchange and eliminate everything currently keeping you bogged down and wasting valuable time.
Also Google's Gadget development platform is ideal for creating mashups and workflow integrations in order to serve business needs in a fraction of the time and cost of traditional development environments. Over 50,000 Gadgets have been developed on this platform.
Business Applicability
Over 5 million businesses of all sizes are using Google Apps and its excellent communication and collaboration capabilities have proven both essential and transformative.
Providing fundamental capabilities essential to every business user, Google Apps For Business has seen rapid adoption in industries with mobile workforces, regional teams and individuals separated by distance, and companies where IT is challenged with scaling at the speed required by its users.
Particular benefits have been seen by industries employing dynamic user bases where the need to add and remove users easily is a necessity such as retail, manufacturing, real estate, technology and media.
Likewise for those using web-based/legacy email and those with no messaging or collaboration services such as manufacturing plants, distribution centres, strategic partners/temporary consultants etc.
Installation
Google Apps requires no lengthy, complicated software installation and features intuitive applications that many users will already be familiar with, thus keeping any needed training time down to the bare minimum.
Security
With everything stored in the cloud you will no longer have any worries regarding lost data even if a desktop dies or a laptop is stolen.
And managing mobile devices, email addresses, security settings etc from the Google Admin console allows you to keep all your data safe, central and protected from any potential disruptions.
This logically separated 'multi-tenant' environment lies at the heart of the architecture and is what provides the scalability, reliability and cost effectiveness for which Google is renown.
With traditional software, employees save data to insecure USB drives, discs and laptops for easy access. But with the ability to access information securely from anywhere, people are a lot less likely to risk saving sensitive data locally.
And given Google Apps' 99.9% uptime guarantee, you can be confident that access will be there whenever it is needed.
Google Apps includes dozens of critical security features specifically designed to keep your data secure. It belongs to you and Apps tools let you and only you control its use.
Compatibility
Google Apps For Business offers a robust set of migration utilities and APIs to pull data from your existing systems. Likewise all existing domain names can also be kept.
Google Docs is compatible with Microsoft Office file formats and many other standards such as PDF, OpenOffice and ODF. Standard Microsoft file formats are supported for import/export from and to all these popular formats.
Google Apps are built on an open platform with extensibility and integration in mind. Google's open API standard, Gdata, provides easy and secure programmatic access to data within applications such as Google Docs, Calendar, Gmail etc.
There is also a free version of Quickoffice, available on Android and iOS, which allows you to view, edit and create Microsoft Word, Excel and PowerPoint documents on your mobile.
Although it is not Google's intention to match other existing products feature-for-feature, the goal is to create a better overall experience and enable new capabilities. Therefore they recognise that some users within an organisation, say finance or legal for instance, may choose to keep Office but are confident Google Apps meets the needs of the vast majority.
There are native apps available for iPhone and Android but you can also continue using Microsoft Outlook or any of the others.
Although Webalite does recommend sticking to the native Gmail app or Microsoft Outlook app as they simply seem better in our experience.
Likewise we also recommended using Google Chrome as it has inbuilt technology designed specifically for Gmail so you will find smoother running and maintenance for all the various features of Google Apps.
Usability
Offline capabilities are still vital and although broadband and WiFi are everywhere these days, there are still instances where users must be offline so Google Apps Offline Support through the Chrome browser lets you keep working even when disconnected.
Gmail Offline capability is provided as a free Chrome web application. Offline access for Calendar allows you to continue scheduling events. And with Offline Docs support you are still able to view and edit Google Documents, Slides, spreadsheets, presentations etc.
And if you should decide to stop using Google, you can easily retrieve email, documents and calendars in other common industry formats for migration.
Gmail
Gmail is simple to use but far from simplistic in its functionality, which means less time for user training.
A Gmail inbox provides substantial storage to minimise the need to delete mail. There is also powerful search functionality and email/IM threading. Instant Messaging is embedded so you can respond in real-time.
A Priority inbox lets you focus on only the most important messages and helps save time. Also your Gmail is available from any computer so you're no longer limited to answering messages at your desk.
Gmail also allows you to read your Microsoft Word, Microsoft PowerPoint and PDF files directly from your inbox with no additional software requirements.
You can have different Gmail addresses all delivering to the same inbox for easy monitoring of all brands and products and yet still reply from one specific, pertinent address as Gmail will automatically select the correct Reply To address.
You can set up Groups and instantly send mail to everyone subscribed therein. Plus the Gmail system still works with existing Microsoft Outlook and/or Apple Mail addresses.
Google Calendar
You can view the calendars of co-workers and colleagues from one main online calendar. Their appointments are viewable right next to yours which greatly helps streamline event planning.
Google Calendar can also be integrated with other components of Google Apps, letting you communicate, share and collaborate via Gmail, Talk and Calendar to reduce chances of duplication and improve output efficiency. However you can also decide who sees your Calendar details should privacy be required.
Scheduling events in Calendar means you will get reminders delivered directly to your inbox and never miss a meeting or invitation again.
Google Docs
Improve the speed and quality of output by enabling simultaneous collaboration and discussion of word processing, spreadsheets, presentation slides, survey forms, project plans, your own site developments etc. Multiple people in multiple locations can view, discuss and edit from anywhere at any time.
This reduces work duplication and confusing document tracking version control issues whilst simultaneously eliminating any concerns over exceeding disc space and inbox quotas due to the old standard email back and forth.
Plus each Google Doc has sharing controls so you need not worry about information getting into the wrong hands.
Google Drive
Google Drive gives you access to your work from across your Mac, PC, mobile device and on the web. Simply download to sync files from your computer to the cloud. Update a file on one device and changes are automatically saved to Drive and your other devices, leaving you with the most up-to-date version of your files whenever they are needed.
Likewise with sharing and synchronising files and folders with team members and other computers. Information stored in Drive can be edited in real-time, ensuring everyone else has the latest updates also. So you'll never need to be sending attachments all over the place ever again.
Google Hangouts
Chat to up to 15 colleagues or clients with or without video from any location. With just one click you will be able to join a video meeting and easily share and view Slides, spreadsheets etc in real-time. No more running up and down stairwells trying to keep hold of a bunch of files and protector tubes and so a lot more productive and time-saving.
Hangouts is integrated with Google's productivity apps to fit the way you work. It's easy to schedule a Hangout from your Calendar or just jump right in from your inbox.
Google Sites
Use Google Sites to make useful information accessible. Employees can create an intranet or let project teams build sites to capture and share departmental knowledge. File versioning is done automatically so it's easy for people to make updates and get the latest version.
Users can display Google Documents, Spreadsheets, Presentations, YouTube video, Picasa Slideshows and Gadgets without any programming skills as no coding or system expertise is required.
All of this is hosted by Google, allowing users to drive innovation without the worry of having to justify hardware and administration expenses.
Google Vault
Vault enables seamless archiving, e-discovery and information governance capabilities to your Google Apps environment to protect your business. It is an optional module you can buy on top of the core Google Apps suite. Your email and chat messages are archived and retained according to your policies, preventing inadvertent deletions.
This also means you can be well prepared for any litigation or compliance audits with powerful search tools that let you find and retrieve relevant information with ease.
Free Trial of Google Apps for Business
So with a 30 day free trial available, no credit card lodging or software downloads required, what are you waiting for? Try Google Apps For Business today, start focusing only on what really matters and your business, not to mention lives, will never be the same again!
Questions?
If you want to discuss Google Apps for you Business then you can book an appointment with Mike.
And, you can check out our Google Apps for Business FAQs.
Special Offer
To get you started Webalite offers you a fixed price setup with this special offer.