Webalite has moved to new offices in Courtenay Place
A new financial year, a new office. In April 2021 we moved into our own offices in Courtenay Place. It's the first time since Webalite started – in 2008 – that we've had our own space.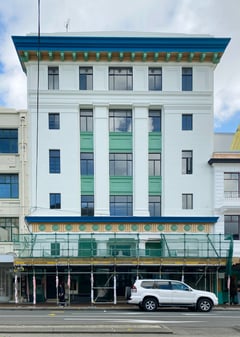 We're now on the First Floor, 49 Courtenay Place – warm, with wonderful natural light and old-world style.
"It definitely feels like the next step for Webalite." says founder Mike Eastwood, having worked in co-working spaces since before co-working spaces were a thing.
We're now in the old National Bank in Courtenay Place, next door to Chow and The Library, even closer to The Majestic (our favourite Yum Cha spot). The building was designed by Atkins & Mitchell in 1928, for the National Bank, and built by Fletcher Construction Co. for £27,982.
More recently the building has been restructured and is still being redecorated.
We've still got a few jobs to do too, we need some signage, but we have internet and we're up and running… and loving it. We've bought new old furniture – secondhand Herman Miller office chairs are made of recycled material and can be disassembled and recycled at the end of their life.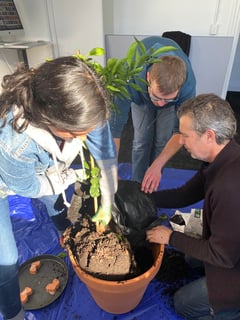 The space was in desperate need of some colour so we got citrus and coffee trees. It seemed like a great metaphor, for a new chapter, planting trees… even if it was only repotting them into terracotta pots. It will be several years before we expect our first coffee berries (the trees looked much bigger in the photos). Unfortunately, the mandarin trees don't seem as excited about the move as we are, they will hopefully cheer up soon.
While we were sad to leave the team (and coffee machine) at Parkview Motorcamp we're excited to have our own office and meeting room. And, we'll still get to see some of the team as we look out from the first floor, across the road, to the Malthouse.
When you come and visit you get into the building use the double doors next to the chemist (at 47 Courtenay Place). You can take the lift to the first floor or take the stairs past the mezzanine.
We still work from home, at client offices and Wellington cafes so you'll want to contact us check we're here before you visit.