HubSpot CRM Primary Contact for Company
You may want to assign a Primary Contact for an organisation you work with. Out of the box HubSpot won't let you assign a Primary Contact without copy and pasting, workarounds or hacks. So, we've been working on a solution...
"How do we set the Primary Contact?"
Our first HubSpot client asked "How do we set the Primary Contact for an organisation?". I couldn't figure it out so I contacted HubSpot support.
Their suggestion was to type the name and email of the Primary Contact into a Custom Field in the Company. You can imagine the emojis I wanted to use for that reply.
You know how hard it is to keep your CRM data clean and tidy – copy and pasting or typing names and email addresses is not a sensible workaround.
So, we coded our own solution.
Webalite's HubSpot CRM Primary Contact Widget
Version 1 of the HubSpot CRM panel allows you to see the Primary Contact of a Company from a CRM Panel. You can drag the CRM Panel up the screen if you need it to be more visible.
You can click on the link to go to the Primary Contact's record in the HubSpot CRM.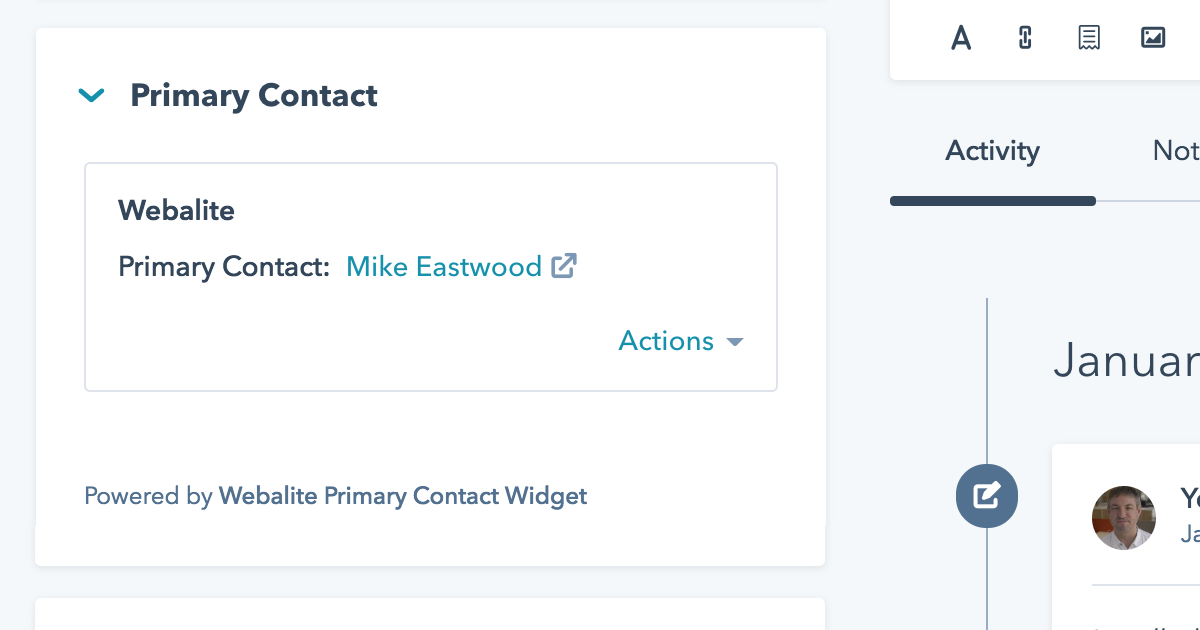 From the panel in the CRM you can also choose the Primary Contact for the Company.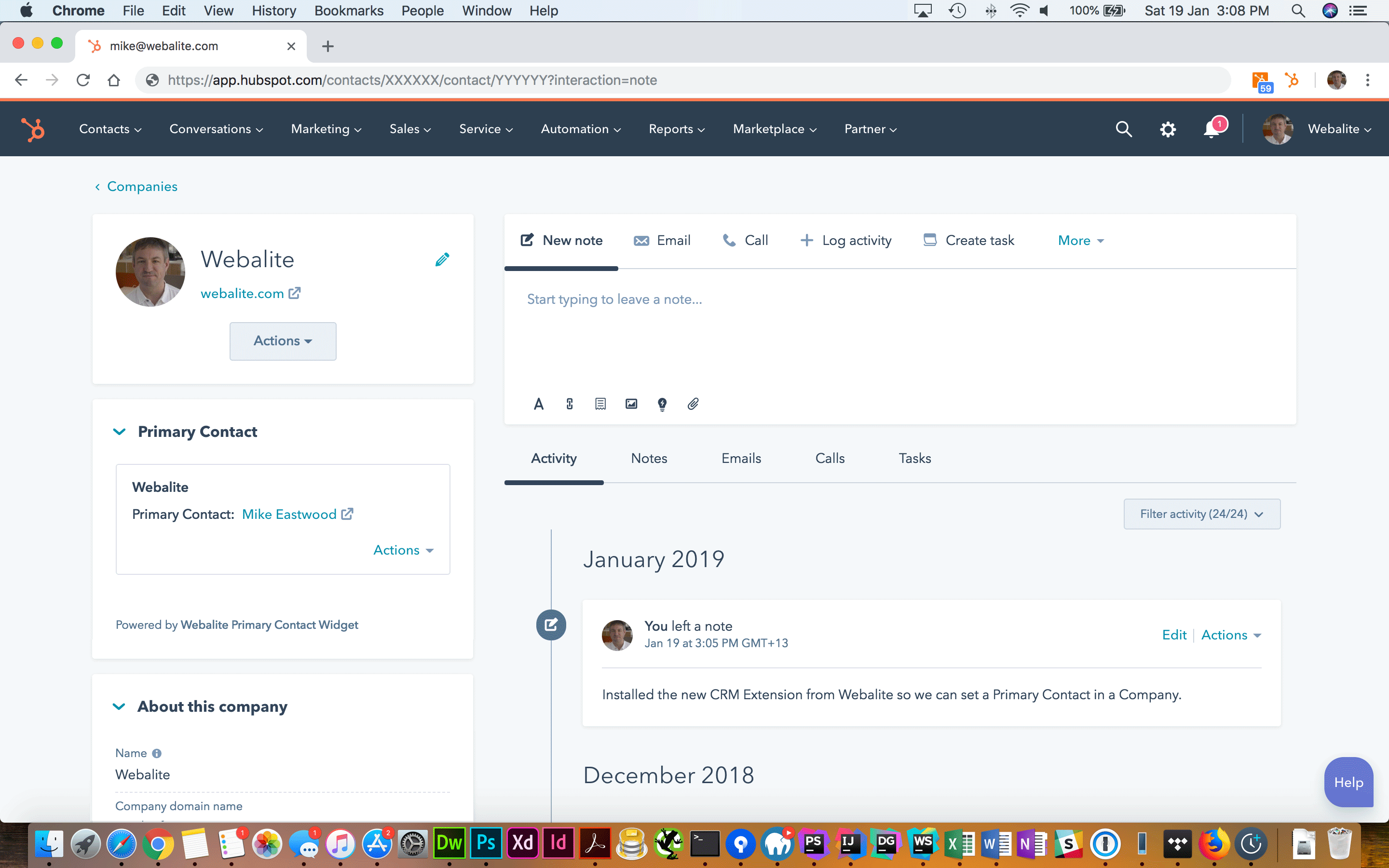 Version 2 is now under construction
We're still developing Version 2 of the widget. We've completely rebuilt it from the ground up and we're looking to add more features in 2019.
Currently the widget will allow you to:
See the Primary Contact in the Company record.
Use the Actions to set the Primary Contact for a Company.
The Contacts you can select is restricted to people "associated" with the Company (so you can't accidentally add someone from another Company).
Confirm your changes after you make the change.
Create Lists* based on the Primary Contact.
Run Workflows* based on Primary Contact.
*requires HubSpot Pro or HubSpot Enterprise
We've got more features planned and we're keen to get your feedback.
Please contact us if you'd like to try the HubSpot Primary Contact Widget.
Version 3
We were working on Version 3 and discovered a much faster idea so we abandoned Version 3 and went to Version 4.
Version 4
This version is faster and has several improvements including:
Primary Contact Panel in HubSpot CRM
Use Primary Contact Personalisation Tokens
Set Primary Contact for a Company
Smart List of Primary Contacts
Use Primary Contacts in Workflows
Accounts Contact Panel in HubSpot CRM
Use Accounts Contact Personalisation Tokens
Set Accounts Contact for a Company
Smart List of Account Contacts
Use Account Contacts in Workflows
Tamper Alert on data
Full details about the Primary Contact HubSpot Integration here.
Update – 22 February 2019
We delayed the launch because we wanted to test the Primary Contact Widget with the new HubSpot CRM layout (which I love).
The good news is that it's all running well and we've made a few improvements.
Please register if you'd like to be part of the Beta Programme.
Update – 27 January 2020
We've completed Version 4!
When we built another CRM Integration for a client we learned how we could speed up the Primary Contact Panel's response times significantly. We tested those changes and they worked really well.
Since then we've implemented a full subscription service with multiple plans - including a free plan. And we're about to submit our Integration to HubSpot for approval.
Update – 12 February 2020 – We're live!
We've made numerous upgrades and implemented some of the feedback from our test users (thank you).
Visit our new HubSpot Integration Website to try the new Primary Contact HubSpot Integration.
Update – 28 July 2020
I confess we put the Primary Contact HubSpot Integration on the back burner because ABM (Account based Marketing) was released by HubSpot. I was worried the ABM Tool would make our integration obsolete.
However, thanks to some encouraging feedback and some new feature requests, we're back into the project. We've prioritised the "Primary Contact for Deals" feature because of the number of requests we've had.
If you have any questions please contact me.
Thank you
Mike Eastwood
Webalite