Meet Sue. She's an independent woman of 48, and she's been divorced for three years. Sue's a senior accountant in a busy firm, and she knows she works much harder than she should. She has 2 children, now 15 and 17.
Now that they're old enough to be left alone, life is a little easier…but she still worries about what they're getting up to when she's working late. In fact worry seems to be Sue's middle name. She constantly feels pulled in several different directions at once.
Sue wants to build her own home. She longs for a place that is modern, light, easy to look after, and will fit her and the kids' busy lifestyles. She needs someone she can trust to manage the whole building process for her, right from initial agreement through to when they can move into their finished home. She's an intelligent woman, with some strong ideas about what she does and doesn't like. But she simply doesn't have time to deal with all of the minute detail she knows a successful new home build entails. So she's looking for a company she likes and trusts to cover all of the detail, and make it all happen.
Understanding your customers is the key to success
Understanding Sue will be vital for whichever building and design company wins her business. The same would apply if we were talking about Richard, who's just retired, or James and Helen, who have just returned from working in Britain with the money to build their first home. And we could go on.
Successful businesses know that understanding their customers and clients is at the heart of their success. People relate to people, no matter what kind of business you're in. And customers want to feel that you get them. No-one wants to be just a number, or to feel that they're treated the same as everyone else. Everyone wants to feel special, individual, and understood.
But how can you make every customer feel special? How do you make your messages and your marketing fit all those individuals out there?
Create personas for every type of customer you can identify
Personas are people you create to flesh out the profile of the different sorts of people you deal with. They are fictional people with the real characteristics of your clients and potential customers. Successful personas have names, but they have much more than that. They also have a whole, rich life — one that helps you to understand them deeply. The more detail you can come up with about your personas, the more useful they will be to you. They will remind you that one size does not fit all, and help you to tailor what you do to your clients.
How many personas you need to create depends on your business. As a rule of thumb, though, you are likely to need 6 to 8.
The 8 tribes of New Zealand
A market researcher called Jill Caldwell, who runs a company called Windshift, came up with the idea that we have 8 basic tribes in New Zealand. Essentially, she believes that all New Zealanders fit into one of these tribes. Here's a summary of Caldwell's tribes.
1. The North Shore Tribe - Achieving
Members of this tribe are ambitious, hard-working, and heavily-mortgaged. Looking good and keeping up appearances are fundamentally important to them. They survive by constantly moving ahead, up through the ranks of job, car, house, street and suburb.
2. The Grey Lynn Tribe - Intellectual
These are highly educated intellectuals who value ideas above material things. They frequent film festivals, feel guilty about discussing property values, and deep down are uneasy about liking reality television.
3. The Balclutha Tribe - Staunch
These are provincial conservatives, who see themselves as a source of stability and commonsense, connected to the land. They are solid, reliable and down to earth, but deceptively smart and, just quietly, very competitive.
4. The Remuera Tribe - Entitled
These are people of privilege for whom breeding is the greatest virtue, and manners really do make a difference. For them, money is great if it's old but crass if it's new. What school you went to defines your life.
5. The Otara Tribe - Community
For these urban, often immigrant, community-minded people, family is paramount. Church or a club is likely to play a central social role. The sense of belonging is very strong, and they feel stong pressure to 'do the right thing' and keep up appearances.
6. The Raglan Tribe - Free spirited
These independent spirits value the ability to live a life according to their own priorities, not as part of the common consumer herd. They tend to be hedonists, spiritual journeyers, fitness fanatics or adrenaline junkies. Many Kiwis join the Raglan tribe for three weeks at Christmas.
7. The Cuba St Tribe - Avant Garde
People in this tribe seek out the cutting edge of cool, love anything new and original and fear being labelled 'mainstream' more than anything else. They're the ones to watch to see the direction that herd will move in next.
8. The Papatoetoe Tribe - Unpretentious
These working people don't like to think of themselves as better than their mates - or anyone else for that matter. They're classic "state house and jug of beer" Kiwis.

These 8 tribes are a good start, and provide a quick snapshot of the major social groups in New Zealand. But for your personas to work best for your business, you need to go further.
Building your personas—what you need to know
Sit down and make a list of as many different types of people who use your goods or services as you can.
Now comes the fun part. Give each of those types a name. Then fill in: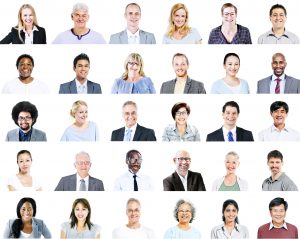 Choose a photo for your Personas to make them easy to visualise.
their background
their behaviour and feelings
how they get their information —do they read, watch TV, rely on Facebook
how they spend their time
their goals and dreams
how they prefer to engage with others—mobile, face-to-face, social media or something else
their politics.
Turn your personas into personalities
Write some 'I' statements for your personas. Here's how that might look. Let's imagine you're an insurance company, looking at the people who buy health insurance.
Don is a 55-year old married father of 3. He's a self-employed designer. Here's what Don says:
'I want to make sure that my family and I can get the health care we need quickly, when we need it.
It's important to me to keep my family healthy, so I've been paying into a scheme for 20 years. But the premiums are going up, and it's getting too expensive, so I'm rethinking my options.
I believe we all have to take responsibility for ourselves—not just depend on the state.'
Write statements for your persona that begin:
'I want…'
'It's important to me to…'
'I believe…'
Refer to your personas often
Some of the most successful businesses use personas to help them get their messages right. Whenever they write content for their website, an article for their newsletter, or a letter to stakeholders, they'll always ask: 'What would Jim think of this?' Or 'What would Moana say?'
'At Webalite we use personas for all our projects', says head honcho Mike. 'It makes life so much easier to be able to give the writer or designer the persona and say 'we're creating this piece of content for Sue.' They can then see just what we need.'
Make your personas work for you, and you'll start to see positive pay-offs in your organisation.
How to create your own Personas
We've built a tool to help you create your own personas. Would you like to try out our new tool when it's released? Please fill in the form below: