[New] Contact Birthday and Automated Contact Age Property in HubSpot
Have you ever wanted to filter a list of Contacts, in HubSpot, by their age? Have you ever wanted to automate a Workflow based on someone's next birthday? Well now you can with Webalite's free Contact Birthday and Automated Contact Age Integration for HubSpot.
Why we built a new HubSpot Integration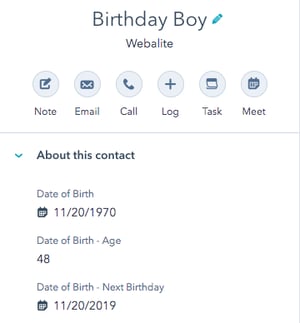 One of our clients runs a Rugby Academy (yes, we're based in New Zealand) and they asked "how do we filter age ranges for our junior players?".
"Ummm… I don't know, I will find out" I answered.
A quick search in HubSpot and I found there was functionality for automations based on annual events, even birthdays but… how did HubSpot know how to start on your next birthday? And how could we calculate the age of the contact?
In short we couldn't. So...
When a Kiwi is told we can't do something in HubSpot we build an integration to do the impossible.
Introducing our new Birthday HubSpot Integration
Here's how our new HubSpot Integration works.
We've created a group of 3 custom properties for Contacts:
Date of Birth - Actual (we'll get to that in a minute)
Date of Birth - Age
Date of Birth - Next Birthday.
And we created a HubSpot Workflow to make the updates to your Contact's Properties. The Integration sets the Age and Next Birthday whenever you add or update a Contact's birthday.
So why did we add a new property for date of birth when there's already one in HubSpot?
The default date of birth property in HubSpot is actually a text field, not a date field, which is populated from the Ads Integration. So, it's unreliable trying to edit or calculate dates from a text field.
The new date field means you can use a date picker, in the CRM, to set a date. Or, even better, you can add a Date of Birth Field to your HubSpot Form so your Contacts can set their own Date of Birth.
Why did we add Next Birthday?
Next birthday is automatically calculated by our integration so you can use it in Workflows, Lists and Filters.
Age automatically updates*
The age is updated, every year, via a HubSpot Workflow (available to Pro and Enterprise Customers). The workflow is triggered when the Next Birthday is known (or updated). And, the workflow repeats annually so you don't need to worry about updating the Contact's age every year, for every Contact.
*Automatic age update is available in HubSpot Marketing Pro/Enterprise, Sales Pro/Enterprise and Service Hub Pro/Enterprise.
What can we use your new HubSpot Integration for?
The possibilities are endless, here's a few applications.
Lists for Birthdays
You can now filter your Contacts or make a Smart list to keep track of everyone who is having a birthday. A phone call or text message is better than an email.
Lists for Ages Ranges
Because Age is a number field you can filter Contacts and create lists where a Contact is between certain age ranges. For example, you could create a list of everyone who is aged 16 - 18 if your business is targeting a specific age group.
Workflows based on Birthdays
The most successful car salesman in the United States – Joe Girard – partly attributed his success to sending a handwritten birthday card to every customer, every year (as well as other holidays). It may sound cheesy now but have you tried it?
You can run an automation in Marketing Pro, Sales Pro, or Service Hub Pro (depending on your configuration) based on your Contact's next birthday. All you have to do is start a new workflow with a Date Based Property.
Workflows based on Contact Age
You can now trigger workflows based on the age of your Contact. Send a special offer when a Contact reaches a certain age.
Now you can send email offers to Contacts over a certain age e.g. wine clubs.
Please let us know how you use the integration.
Who is Webalite?
We're a Certified HubSpot Partner Agency. We've been using HubSpot since 2015 and we've helped clients in New Zealand, Australia, USA and Europe with their HubPost Portals, websites and more, much more.
Mike Eastwood, the founder of Webalite, is one of the top 10 advisors on the HubSpot Community and he regularly speaks about Hubspot, websites, digital marketing and other geeky stuff.
Great, how can I get the new Birthday HubSpot Integration?
Please fill in the form below and we'll be in touch with you.
If you're using HubSpots free products, or Starter products we'll need to ask a few more questions.
Currently only marketing Pro is supported. We're working on other features so the integration can work for the Free or Starter products.
FAQs
How do I install the integration?
Please fill in the form below and we'll send you the step-by-step instructions. Basically you need to authorise the Integration and allow it to add new properties and workflows. The integration will then update the properties when the Contact's birthday changes.
Why is the HubSpot Integration free?
We like to help HubSpotters like you get the most out of HubSpot. People that use our integrations often become long term clients because they like the way we think and work.
How to I uninstall the Integration?
In your HubSpot Portal you can remove any integration, including ours, by revoking permission. You can also remove the Workflow and any Custom Properties.
Is the Integration Secure?
Yes, HubSpot has excellent security and no data can be changed without your permission. The plugin does not use, nor store, and Contact information.
Is your integration GDPR Compliant?
Everything is done inside HubSpot so it's all GDPR Compliant by default. Our system doesn't store any information about your contact.
Can you customise the HubSpot Integration?
Please get in touch and ask. We build custom integrations for clients around the world so we may be able to work with you too.
Does your system work with UK vs. US dates?
Yes, date math is annoying but important. Because we work with date fields it knows whether 2/12 is the 2nd of December, or the 12th of February.
Unfortunately – due to a bug in HubSpot – all dates will be visible in your HubSpot Portal in US Date Format (mm/dd/yyyy) which is confusing for the rest of the world.
Why do you not support the Free or Starter HubSpot Products?
The automatic age update uses HubSpot's Workflows tool. Originally Workflows (marketing automation) was only available in Marketing Pro and Enterprise but now it's also available in Sales Pro and Service Pro, for both Pro and Enterprise Customers.
What else can your integration do?
If you have any specific requests then please contact us.