Website design is more than just colours and fonts. Your website needs to be fast, easy to use on any device and optimised to get results – specifically more traffic, more leads and more of the right type of customers.
You've heard me say before "Nobody wants a website" so why am I now telling you how important your website is?
Ultimately your website is the container to both deliver content and capture those lead so it's extremely important. Your website is the hub for all of your digital marketing activity.
Yes, you need a website.
Sure you can build your online business on Facebook, but what happens if they change the rules? If Facebook changes the rules – to their game – you could lose your entire marketing channel overnight (we've seen it happen).
Owning your own website is a lot of work but it's always yours, your email list is not going to disappear overnight because you didn't comply to your own terms and conditions.
What is the purpose of your website?
Before you start working on your website you should ask yourself "what is the purpose of your website?".
Your website's purpose could be one or more of the following:
Help people get in touch with you quickly and easily
Share information about your products or services
Increase your authority in your market making you the expert
Generate leads for your sales team
Help your sales team convert leads into customers
Automate process and systems e.g. customer onboarding
Business processes to your customers and team
Your website is not about you
Your website is about your visitors, your leads and your customers and their needs, wants and desires. Your content is designed to help your visitors, connect with them and help them along the Buyer's Journey.
Your website design is designed for your ideal customers – not you.
You may like a particular style, or look, but unless you represent your ideal customer then your style preferences are less relevant than the people you're trying to attract to your website.
So, how do we design a website for our target market?
Personas
A Persona, or Avatar, is a fictional character that represents your ideal target customer. Creating a Persona helps your team define your target market so they are easy to visualise, making it easier for you to communicate with them.
Personas make it much easier for designers to create imagery, typography and colour palettes that connect with your ideal Persona.
Personas make it easier for everyone to create compelling content which talks directly to your ultimate customer.
Personas make it easier for developers to understand the intention so they can develop with them in mind.
When a visitor comes to your site they are at some stage of the Buyer's Journey which will shape the content, more than the design, but it's still relevant to the design process.
What is the Buyer's Journey
The Buyer's Journey is the process buyers go through to become aware of, evaluate, and purchase a new product or service. More than ever the Buyer's Journey is in the control of the buyer, not the salesperson nor the marketer.
This journey, as you've probably experienced, is never a linear path and often never a predictable timeframe. However, you can help your buyer along the Journey in a helpful friendly way.
The Buyer's Journey is a three-stage process:
Awareness Stage

The buyer realises they have a "problem".

Consideration Stage

The buyer defines their "problem" and researches options to solve it.

Decision Stage

The buyer chooses a solution.

Is your Website an Expense vs. Asset
A website that fails to attract visitors and/or collect leads for your sales team is a business expense.
Conversely if your website attracts visitors, converts them to leads and helps your team land new customers then your website is a profitable investment giving you a Return On Investment (ROI).
Your Website Progression from an Expense to an Asset
Unfortunately, your website will never actually be finished, however you can continually improve your website.
Over the last decade we've mapped out this progression from your website being an expense to an asset that generates an ROI:
No Website

It's better to get something online – as soon as possible. Even a Splash Page with your contact details is better than nothing, but far from effective.

Splash page

A Splash Page is good to hold the space and let Google know something's coming. At a minimum you need to have your name, an introduction and contact details. Remember "progress over perfection", you need to publish content to compete online.

Online brochure

In the early days of the web people put their brochures online. A good start... but ineffective for attracting visitors and unlikely to generate any leads. If you have some existing content – even if it's old brochure content – it's good to publish it on your website while you work on the next steps.

Authority Website

By publishing high quality, high value content regularly you attract visitors and search engines. Become a "thought leader" in your industry, share your expertise. Rather than trying to outsell your competitors you should aim to out-educate your prospects so you become an authority in your market.

Marketing Machine

When your website is delivering high value, useful and engaging content – and collecting visitor's information – you will start to see a return on your investment. With additional offers visitors can exchange an email address for additional high-value content, webinars or other events. Your visitor has now been converted from a visitor to a lead.

Sales & Marketing System

With the right systems in place your sales team can see what your leads have been looking at, understand their needs, and help educate them. When your sales team are helping people that have expressed interest in your products and services your sales team become trusted advisors.
Website Design
You don't get a second chance to make a first impression. Your website design is often the first impression your business makes on your potential customers.
Differentiate by Design
Italy lead the global design revolution because they had dozens of competing manufacturers.
At first the factories would compete on price - they soon discovered that was a race to bankruptcy. Then quality became the competitive motivation - whoever could deliver the best quality at the best price won. It didn't take long for the playing field to level again. Service soon equaled out as businesses competed for clients.
Design became the new differentiator. Every company hired Industrial and Graphic Designers to differentiate their product from their competitors. Soon the competition was so fierce, between local manufacturers, they led the world in product design.
You can also use design to help differentiate your business against your competitors. You will still need to work on Price, Quality and Service – design is the extra, intangible quality that can give you the edge.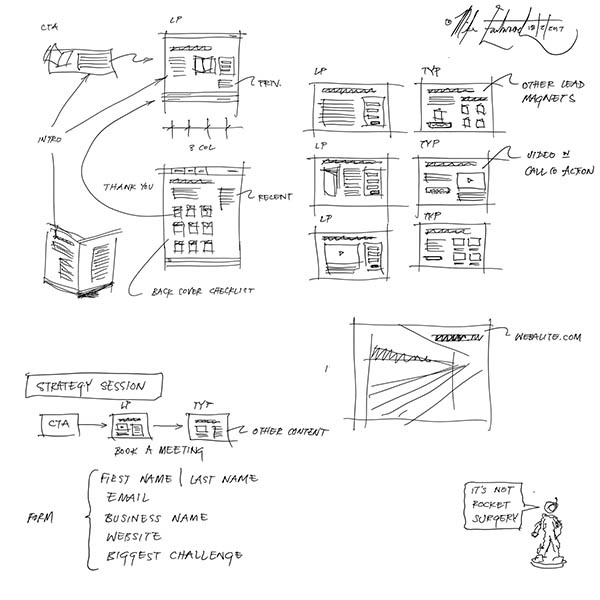 Design and Branding
Your brand is much more than just a logo – your brand includes colour, typography, layout and both visual language and written language.
When your brand is focused you can portray quality (high or low), status, price, service and more. When applied consistently – across all mediums e.g. website, brochures, etc. – your brand portrays consistency. Conversely if you have some content with old logos, different brochures from different decades your brand shouts a lack of caring and consistency.
Remember – if you business targets low cost high volume customers then "high design" can actually discourage your potential customers the same way a cheap brand will detract from a high quality product.
We can design your website for you, or work with your website designer.
Mike's background in design means Mike and his team of website designers can implement your website from the ground up. We can use your style manual to make your site fit with your other collateral, or work with your website designer (yes, we play well with others).