More traffic, more leads and more of the right type of customer with Marketing.
Often we find that a website is an expense, not an asset. When you invest in your website, marketing and sales your website becomes an asset that gives you a Return On Investment (ROI). It's great you already have a website, but first…
Why do you need a website?
You've probably heard me say "nobody really wants a website" so do you need a website?
Yes, you need a website – ultimately your website is the container to both deliver content and capture leads so it's extremely important.
Designing, developing and hosting a website takes time, effort and budget. Creating content and campaigns takes even more time, effort and budget. Your website, and your marketing, will never actually be "finished" (there's always more to do).
You can build out your marketing using social media, online advertising and old school media. However, there are two fundamental flaws with using only these models:
Most social media platforms own your content, not you. And, at any time, the "terms of service" or an algorithm can change and you can lose all your content, all your traffic, leads and any future customers.
If you're paying for traffic then whenever you stop paying your traffic, leads and future customers stop.
Building a website is like owning your own home, and advertising is more like renting. When you stop paying rent (an expense) you're out on the street. When you own your home then it costs more initially but you own the asset. Over time, as you make improvements, your asset value will increase.
Website Progression from an expense to an asset
Over the last decade we've mapped out this progression from your website being an expense to an asset that generates an ROI:
No Website

It's better to get something online – as soon as possible. Even a Splash Page with your contact details is better than nothing, but far from effective.

Splash page

A Splash Page is good to hold the space and let Google know something's coming. At a minimum you need to have your name, an introduction and contact details. Remember "progress over perfection", you need to publish content to compete online.

Online brochure

In the early days of the web people put their brochures online. A good start... but ineffective for attracting visitors and unlikely to generate any leads. If you have some existing content – even if it's old brochure content – it's good to publish it on your website while you work on the next steps.

Authority Website

By publishing high quality, high value content regularly you attract visitors and search engines. Become a "thought leader" in your industry, share your expertise. Rather than trying to outsell your competitors you should aim to out-educate your prospects so you become an authority in your market.

Marketing Machine

When your website is delivering high value, useful and engaging content – and collecting visitor's information – you will start to see a return on your investment. With additional offers visitors can exchange an email address for additional high-value content, webinars or other events. Your visitor has now been converted from a visitor to a lead.

Sales & Marketing System

With the right systems in place your sales team can see what your leads have been looking at, understand their needs, and help educate them. When your sales team are helping people that have expressed interest in your products and services your sales team become trusted advisors.
Now you know why you need a website let's look at how you can get more traffic, more leads and more of the right type of customer.
But first it's important to understand the Buyer's Journey.
The Buyer's Journey
The Buyer's Journey is the process buyers go through to become aware of, evaluate, and purchase a new product or service. More than ever the Buyer's Journey is in the control of the buyer, not the salesperson nor the marketer.
This journey, as you've probably experienced, is never a linear path and often never a predictable timeframe. However, you can help your buyer along the Journey in a helpful friendly way.
The Buyer's Journey is a three-stage process:
Awareness Stage

The buyer realises they have a "problem".

Consideration Stage

The buyer defines their "problem" and researches options to solve it.

Decision Stage

The buyer chooses a solution.

I want more traffic
Build it and they will come only works in the movies. You can design and develop a website, create relevant high value content, and still get no traffic. Even though you've progressed to an "Authority Website" your website is still an expense.
Here's what needs to happen to get more traffic:
Create relevant high value content
I've said it before and I will say it again: your content needs to be useful, relevant and high value. Without high quality content you will always find it difficult to rank in search engines, inspire people to share your content and even harder to get any engagement from your visitors.
Search Engine Optimisation (SEO)
Google, like most search engines prioritises high value, authoritative content using a complex formula of "On Page" and "Off Page" signals. With more optimisation you can climb the ranks of Google. Optimising your content for your local audience also has an impact on your search engine rank.
We talk about Google all the time because they account for 88.47% of searches in April 2019 according to Statistica.
Inbound Marketing
Inbound marketing is about using marketing to bring potential customers to you, rather than having your marketing efforts fight for their attention. "Sharing is caring" and inbound marketing is about creating and sharing content with the world.
When you create content specifically designed to appeal to your dream customers, Inbound Marketing attracts qualified prospects to your business and keeps them coming back for more.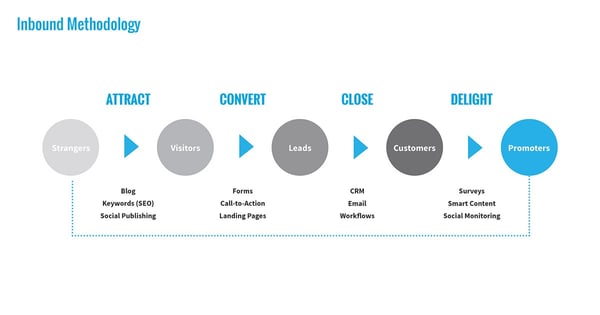 Along the top are the four actions (Attract, Convert, Close, Delight) inbound companies must take in order to obtain visitors, leads, customers, and promoters. Along the bottom are the tools companies use to accomplish these actions.
The tools are listed under the action where they first come into play, but that's not the only place they're applicable! Several tools, like email, can be essential during several stages of the methodology.
Email Marketing
Email marketing has the highest Return On Investment of all marketing. According to the DMA Marketer Email Tracker Research 2018 Email generates £32 for every £1 spent.
Marketing with email is extremely effective, measurable and it's probably the easiest to get started with – you don't need to have your website finished, you don't need to wait until everything is perfect, just start.
You probably already have an audience (your existing customers and networks) that would find your content useful.
Social Media
Love it – or hate it – you can't ignore Social Media. Your target market is on Social Media and you can reach them there with the right techniques and get new visitors to your content.
Benefits of Social Media for Business
Business was quick to discover the marketing power of being "Social". Most brands have representation on Facebook, Twitter and many of the more recent Social Networks like Instagram, Pinterest and even SnapChat.
The major benefit is that marketers can engage with their target market on the terms of the buyer not the seller. Conversely, old school advertising relied on interrupting the target audience and pushing messages on a schedule that suited the marketer.
Benefits of Social Media for Consumers
A good experience, or a bad experience is quickly amplified to your Social Network. More and more people are taking to Facebook and Twitter to voice their opinions. And, if organisations respond quickly this can work in their favour. Handled badly and the person's connections will soon chime in, telling everyone about similar experiences and offering alternatives.
However, diplomatically handling a complaint, quickly and efficiently, can strengthen a brands online presence. Handled badly the same complaint badly amplifies the problem and has far reaching effects.
Online Advertising
You can accelerate your traffic flow with online advertising. Search Engine Marketing (SEM) or Social Media Advertising can quickly drive traffic to your content.
There are four main types of advertising online:
1. Search Advertising

The most successful online advertising has been Search Advertising – this is what made Google into a bazillion dollar business. It works well because if someone is searching for something in a Search Engine e.g. Google then the results are going to be an ideal place to advertise. The best type of advertising is educational content because people usually are hitting the search engine looking for an answer. Some search terms are more focused on purchasing decisions e.g. price comparisons and you should adjust your adverts accordingly.

2. Display Advertising

Maybe you know them as banner ads. This is one of the least effective forms of digital advertising and this is reflected in the price. Usually you pay a low Cost Per Thousand (CPM) views. This is becoming less and less effective because of "Banner Blindness" where people ignore the ads. Also the rise of Ad Blocking software means these ads are being seen by less people.

3. Retargeting

The most effective form of Display Advertising is Retargeting. When a visitor interacts on your website you can then target Display Advertising on other sites they visit. Retargeting works best when you Retarget visitors that have begun a purchase process e.g. if the abandon a shopping cart without completing the transaction.
Because you're only showing ads to people that have shown interest the cost is low and the conversion rate is higher than less targeted Display Advertising.

4. Social Media Advertising

The new kid on the block is Social Media Advertising. You can pay to have your content injected into someone's Social Media feed for a fee. This has been an extremely effective method for inflating the value of Social Media companies and to reach your target market. Social Media Advertising works best when you promote the type of content your target market looks for when they are relaxing – in other words, people don't usually go to Social Media to shop.
How your website works with your marketing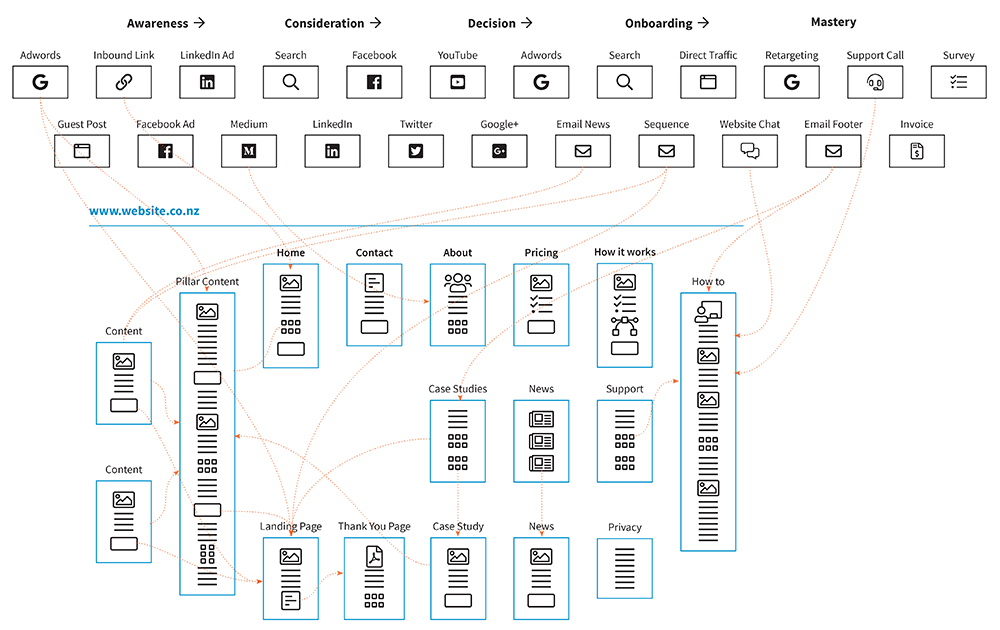 I want more leads
Before the internet sales people held all the information. To learn about a product or service you had to engage with a sales person, often you then had to complete the transaction through the sales person. Thankfully this has changed.
Now the buyer can research anything, any time, anywhere. A lead can even visit a store, to look at a product, while checking the product on their phone (another reason your website needs to be mobile friendly).
When your visitors are on your site your aim is to capture their contact details so you can market and, as you build a relationship, sell to them. The subtle differentiation is that a lead at the beginning of their journey is probably not ready to buy, if you start selling immediately you'll often scare them away.
Search Engine Optimisation (SEO)
When we apply SEO to our site, while considering the Buyer's Journey, we need different types of content for different parts of the Buyer's Journey. When a visitor has performed a Google search during the "Consideration Stage" of the Buyer's journey they are going to be more specific, more detailed and want more information to help them on their journey.
Conversion Path
Before you start Conversion Rate Optimisation you've got to start with a Conversion Strategy. A typical conversion path starts at the source:
Traffic Source – a link to your page e.g. Google
Landing Page – content that people are looking for e.g. a Blog Post
Call To Action – a compelling offer that makes the visitor want to download a Lead Magnet
Landing Page – a sales page that is designed to convert the Visitor into a Lead.
Form – a form to collect the visitors details so we can market to them
Lead Magnet – an offer of high value content exchanged for an email address
Thank You Page – a page to continue the Buyer's Journey with more rewarding content
This is a typical Inbound Marketing approach. Remember the aim is to "out educate" our lead rather than "out sell" our competition.
Conversion Rate Optimisation (CRO)
In 1923 Claude Hopkins wrote the book Scientific Advertising – essential reading for anyone in the advertising industry. Claude Hopkins used split testing and coupons to "test and measure" Conversion Rate Optimisation. Fast forward to today and he would have been amazed at how quickly and effectively we can optimise content and conversions.
Here's a simple example: if we have a blog post that gets 1,000 visitors and 30 download a Lead Magnet then we have a 3% Conversion Rate. We now have 30 people to "nurture" with an email marketing sequence. If 3 of those people buy our product we've got a 10% Close Rate.
So, let's assume we can optimise each step by a conservative 10%.
If we optimise by 10% on each interaction. 1,000 visitors becomes 1,100 visitors. Our bounce rate drops by 10% so more people stay on the page longer. Also, we increase clicks on our Call To Action (CTA) by 10%. By optimising our Landing Page and Form we gain another 10%. With these incremental tweaks we increased leads from 30 to 46. And, even without increasing the Close Rate, we increased sales 3 to 5 (with a bit of rounding) which is roughly 66% increase.
Now let's look at how to get more sales.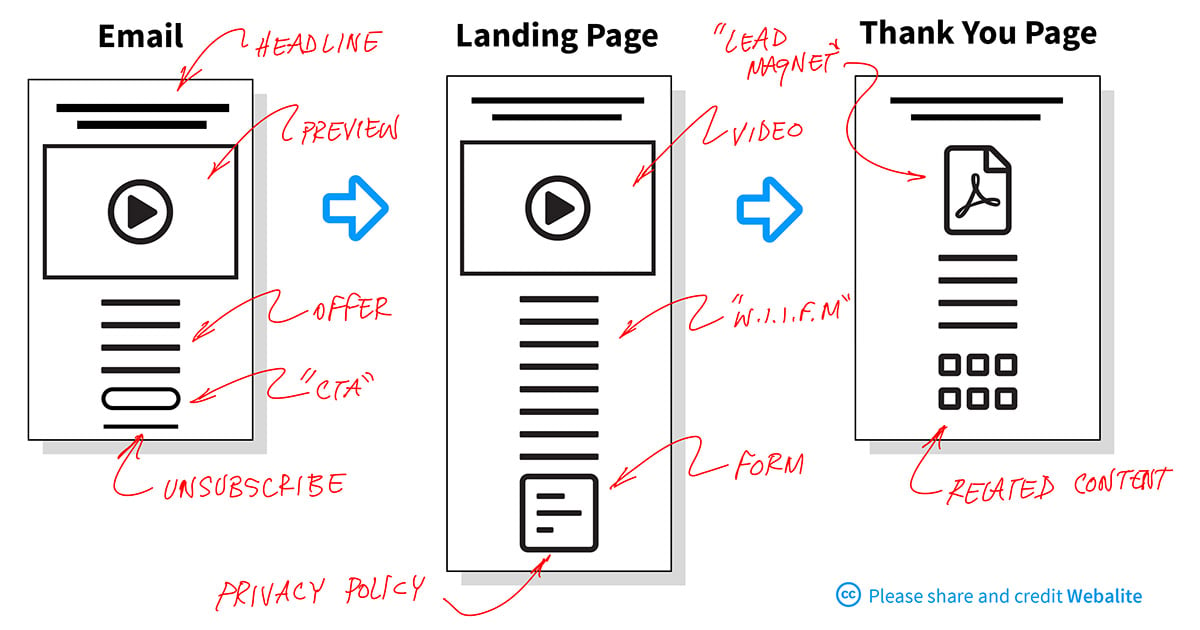 I want more of the 'right type' of customers
Your website can help you, to help your leads become customers.
Your website can also help the "wrong type of customer" to either solve the problem themselves, or steer them elsewhere, without burning your team's time. There's no such thing as a bad customer – there's a bad sales process that lands the wrong type of customer.
Yes, we've all had those type of customers where it's just not worth the time or effort to help them. Yes, we've all had times when we've taken on these customers because need the business. However, the short-term gains often are quickly replaced by long term losses if we don't educate them to make them an ideal client or fire them.
By using Marketing Personas (or Avatars) we create content for our ideal client. When we create content, we know it will be useful for our less-than-ideal visitors. We can gracefully refer those less-than-ideal visitors to the content, so we can spend less time with them and more time with the right type of leads.
Marketing Qualified Leads (MQL) vs. Sales Qualified Leads (SQL).
When your website converts a Lead (they download some valuable content in exchange for an email address) they become a Marketing Qualified Lead. You now have an opportunity to help them with more relevant content. Rather than out-selling your competitors you want to out educate your lead so when they come to buy you are the trusted expert.
By measuring engagement and interactions you can qualify a lead as a Sales Qualified Lead. Your sales team can engage with Sales Qualified Leads and prioritise them over unengaged leads (until the time is right).
Email Marketing
Once you have leads in your CRM the most cost effective way to nurture leads is email. There are several types of email marketing and you can use one or more to stay in touch.
Email Nurture Sequence

Whenever a new lead downloads a Lead Magnet they should be nurtured with a series of emails. These are chatty educational emails that help the lead learn about the product or service you offer. The aim is to out-educated your lead rather than outsell your competitor.

Curated Content Email

The internet is overwhelming – there's too much content and it requires a lot of effort to find high quality articles, videos, infographics, etc. So, whenever you find some useful content Tweet it, then save it to a bookmark service like Evernote or Pocket. Then, when you have 5 pieces of content write a short digest post for your website with an intro, and a link to each piece of content you've discovered. Then share that post with your email list. Notice how you've repurposed that content for Social media, SEO and Email Marketing.

Announcement Email

"Our new website is live!" is a great example. Again you want to make it a short simple email as if you're writing just to the recipient. As soon as you build an email newsletter you lose that intimate one-to-one communication look.

Transactional Emails

Day to day emails, even if they are simply confirmation emails are an effective marketing tool. You can send timely emails to check how a product is working out, ask if they have any questions, prompt a conversation rather than just send an email with information.

Email to ask a favour or a question

People like to help. Ask your email list questions to find out what they are stuck on, what problem are they hoping to solve, what's confusing that they'd like you to explain?
We asked, in a client's nurture sequence, what was the biggest challenge they were facing with their buying process - it resulted in a phone call to ask for advice. This is exactly what you want when it's a long sales process for an expensive product.

Email Nudge

Ok, this is more of a Sales Email than a Marketing Email, but it's my favourite – when you're nurturing a lead and they've indicated they're keen it's a great way to follow up without making them feel pressured. You know how often people don't get back to you because they're too busy. An email nudge is a topical piece of content to remind them you're the expert (and they were meant to do something for you). For example: if you are waiting to hear back on a proposal email them an article you saw on a news site that's relevant to them, their business or industry. You will get a much better response than "just touching base".
Marketing Automation
Automating the repetitive tasks frees up you, and your team, so you can spend more time on the high value interactions that require that human touch.
Using marketing software we can set up automations to perform, watch, measure, trigger processes to save you and your team time.
Marketing Automation can include:
Sales processes e.g. lead qualifying
Onboarding processes
Digital content delivery e.g. an online course
Follow up sequences.
We've found than using Marketing Automation improves our efficiency following our Sales Process because the simple tasks are performed automatically and the tasks that require a personal touch are triggered with reminders.
Retargeting
The most effective form of Display Advertising is Retargeting. When a visitor interacts on your website you can then target Display Advertising on other sites they visit. Retargeting works best when you Retarget visitors that have begun a purchase process e.g. if the abandon a shopping cart without completing the transaction. Because you're only showing ads to people that have shown interest the cost is low and the conversion rate is higher than less targeted advertising channels.
Next Steps
Ok, I've just dumped a load of information on you... here's what to do next:
Take the 6 Question Marketing Quiz to see where you're at.
Book a Strategy Session with Mike Eastwood so he can learn more about your goals and recommend some solutions.
Share this page with anyone else in your team to help them get on the same page.
If you have any other questions please contact Mike Eastwood using the form below.