Email Marketing
Email Marketing delivers a high Return On Investment (ROI) because you are marketing to people who know and trust you.
There are two really good reasons to start email marketing now:
You already have a relationship

Even if the relationship is just from someone downloading a lead magnet from your website. An existing relationship means you're much more likely to connect. Also, your existing customers are ideal targets – it's important to segment (a sub set of your email list) so you can use the right language and send the right offers.
You get a high return compared to other marketing efforts

Because of the exisiting relationship you can nurture a lead, via their inbox, until they are ready to buy. The cost of sending an email is virtually zero, yes there are some setup costs and, as with anything, testing and measuring the response.
Marketing with email is extremely effective, measurable and it's probably the easiest to get started with – you don't need to have your website finished, you don't need to wait until everything is perfect, just start.
Types of Email Marketing
Types of emails, or email sequences, include:
Nurture Sequence
Created Content
Curated Content
Announcement
Transactional Emails
Ask a favour or a question
Email Nudge
For more details about these email types check out our post on Email Marketing.
HubSpot Email Marketing Certified
Mike Eastwood is certified by HubSpot in Email Marketing.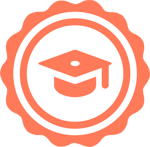 Email Marketing Certification