Over the last decade, after working on hundreds of websites, large and small, we have created this diagram to show how to turn your website into a marketing funnel.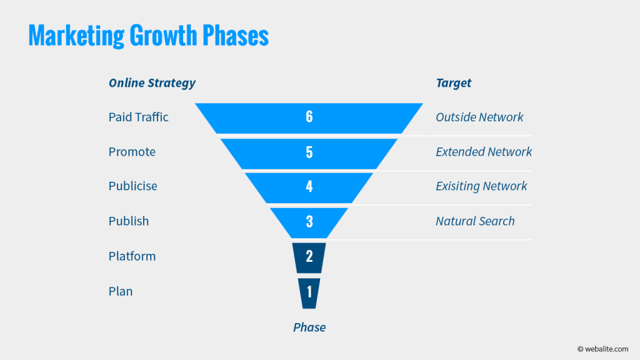 You've probably heard me say: "Nobody wants a website - what you really want is more traffic, more leads and more sales"... yes, you need a website to do that. Here's what you need to do before you build your website.
Plan
At the base of the funnel, you can see the Plan. Everything in the Marketing Funnel is built on the Plan.
Platform
Once we have a plan we then start to build out the platform. The platform, built on the plan, is extremely important because without a stable platform you will find it difficult, if not impossible, to scale.
Publish
Quality content is what people are searching for – literally. By regularly publishing targeted, relevant content we can attract and convert visitors into leads.
Publicise
Once we have valuable content we need to share it. With email marketing and social sales we can nurture our network.
Promote
To increase the size of our funnel we can share and promote our content via Social Media.
Learn more about Promoting your content
Paid Traffic
Paid traffic is at the top of the funnel and is the fastest way to get new traffic to view your content, however it requires investment.
Marketing ROI (Return On Investment)
Each level is built on the level below. Platform builds on the Plan, the Publishing is built on the Platform and so on. Therefore, if you don't get your Plan and Platform optimised before you start your Publishing then your results will be diluted; and, if you try and scale, your system may fail and the costs will exceed the results.
Therefore we recommend a review, to start, to ensure your Plan and Platform is solid.