SEO (Search Engine Optimisation) Audit
There are several factors that will strongly effect your ranking in the search engines. For example, did you know that if your website is not mobile friendly your website will be penalised in the mobile search results and mobile friendly sites will be promoted above yours.
Webalite 56 Point SEO Audit
You can check your website to see how your site rates.
Our system runs 56 individual tests on the page you choose, based on the keyword you choose.
The tests in our SEO Audit fall into the following categories: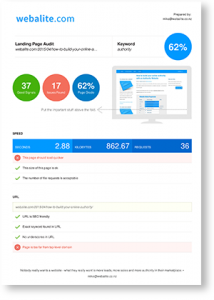 Page URL
Title tag
Description tag
Images
Headings
Copy
Code
Social
Mobile
Links
Domain name
How it works
You enter the page you want to audit and the keyword you want to rank for. We run the audit on your site and send you a PDF report that shows you what's good, what's bad and a list of tasks to get it sorted.
How do you know the geek that set up your site has done it correctly? Get a Free SEO Audit.