Let me start by declaring "I hated Social Media"… well, I did. So many business owners I talk to shrug – they know they need to be there, but they don't know where to start. I relate, often dismissing Social Media as "a necessary evil".
It's easy to make excuses, we've got lots of other more urgent and important things to do, now it's time to ignore the reasons to not do it and get started.
The Social Media experiment
The aim of this experiment is to commit to Social Media – every day – for the next 30 days to see what happens and, more specifically, what's the ROI (Return on Investment)?
We'll be transparent with numbers, results, tools, techniques, everything. If you have any questions please ask in the comments – if you want to know someone else will benefit from the answer.
This idea has been brewing for a while so let's begin. Recently I have dabbled (so it's not quite starting from scratch) and we've done some great work both for and with clients.
Why Social Media is relevant
Social Media, or Social Networks are simply websites, or apps, that lets users share content and opinions.
The big shift has been people sharing, or publishing, their own content easily, quickly and potentially to a massive audience without need any skills in publishing.
Previously traditional media networks controlled the flow of information because it was one way e.g. television. Everyone was required to consume the content that was published by the network at the time it was published.
Websites were the first big shift where people could create and publish their own content on their own terms. This started the decline in traditional media e.g. newspapers as people engaged with more up to date content on topics that interested the reader, not the publisher.
Social Media has decomcratised publishing even more because people trust people they know - social networks allow people to voice their opinions instantaneously from their phone to their network. You can now share any information, experiences - good or bad - via Facebook, Twitter, or hundreds of other Social networks immediately.
Why am I using Social Media now?
Dogfooding (the practice of eating one's own dog food - or practicing what you preach) is one reason. We've been helping business grow by helping them use Social Media to drive traffic to their website and nurture prospects and leads. For example, with the Chocolate Festival we doubled their email subscriptions in 24 hours with one Facebook video.
However, the main reason is we're growing Webalite and Social Media is a great way to share our message, listen to the market and nurture our prospects and leads. Social Media is one important part of our Inbound Marketing strategy. In short Social media makes good marketing sense.
Which Social Networks?
To start with I will focus on the following Social Networks:
Facebook
Originally I refused to join Facebook because of their "walled garden" approach - you can only participate if you create an account - the opposite (in my view) of what the internet is about. On Facebook I will be posting to my personal account, Webalite's Page (there is a difference between a personal page and a business page).
Twitter
Unlike Facebook everything posted on Twitter is visible to everyone (with the exception of private messages). My first impression of Twitter was "Facebook on speed" as I watched my post washed away by the flood of other posts. Now I have a better understanding of Twitter I liken it to the billboard on a motorway where the owner of the billboard tells you how many cars drove past. Did they look? Did they engage?
Currently I have two Twitter accounts a personal account @TuesdayNiteMike and a neglected work account @webalite. For this experiment I will be working on @webalite and sharing any food & wine related posts on @TuesdayNiteMike. Unfortunately @mikeeastwood is taken but not used.
LinkedIn
The professional network has evolved from a glorified CV posting site into a full Social Network. For this experiment I will post on my personal profile and Webalite's profile.
Google+
But isn't Google+ dead? Well, yeah, maybe? After reading this article on Search Engine People I decided to include Google+ but I'm really not expecting much, if any, results. The good things is that all of our traffic will be monitored so we can see what's working and what's not. My personal opinion is that Google+ was mostly used by geeks and they aren't our target market.
Others
I've got a few ideas for other networks - there's a ton of them - but for now I want to focus on the main networks. Over the course of the next 30 days I may add others.
Who is Social Media useful for?
Anyone who has a business, brand, website or product.
Or anyone thinking of creating a business, brand, website or product - by building your audience before you start you will gain valuable insights that will save you time and you will discover opportunities as you create.
What do I need to follow along?
You will need a computer, with an internet connection - yes, you can do this on mobile only but it's going to be easier to do some jobs on a computer.
You need a website (yes, you've probably heard me say "nobody really wants a website" however, you do need one).
Why a website? Can't I run everything on a Facebook page? Yes, you can, but you don't own your content – if Facebook changes the rules of the game tomorrow you could lose your marketing channel overnight. Your website is where you want to drive traffic, then you can capture the visitors email address (in exchange for something of value) so that you can continue the relationship via email and Social Media.
Analytics, or tracking, is essential. By installing Google Analytics (or your choice of analytics software) you can track what's working and what's not working so you can do more of what's working. In short by analysing the data we can calculate the ROI.
Let's get started
The really is a Weblog, now known as a blog, it's not preprogrammed - these updates are live. After the 30 days the frequency may drop… or, if it works, the frequency may increase.
The following days will give you step by step techniques to get going. You may (ok, probably) are further along than me so feel free to skip stuff. Even better, if you've got some handy tips them please let me know so I can share.
Ok, my profiles are a mess. Inconsistent branding, neglect, inconsistent messages. So my first job is a makeover (as soon as I finish this introduction).
Day 1 – where are we at
First day of my Social Media experiment and I've been spammed by two people on Twitter. Both have followed me, then sent me a direct message pushing their products. I won't be following them back.
To build a following on Twitter you need to follow, so whenever someone follows me I will follow them back (unless they spam me). Oh, and a friend just joined so I followed her too.
Just noticed a compliment, from a friend, on Twitter. By "liking" the Tweet you're sending an acknowledgement as the Tweeter will get notified that I liked their Tweet.
No activity on Facebook, not surprisingly. Today I will give the Webalite Page a makeover.
Here's the numbers on Day 1:
Facebook:

5 Likes, People Reached 13, Engagement 4

Twitter:

Followers 52, Following 156, Tweets 33, Likes 2, 2108 impressions (28 days),

LinkedIn:

382 Connections, 36 Profile Views (90 Days), 1 Post view (7 Days), 0 Published
So, overall, pretty embarrassing… and, today, that took a while.
Day 2 – annoying
So far all I seem to be doing is attracting bots (automated robots trying to build a Twitter following). So far no genuine reactions but that's because I haven't been doing any outreach – can't really expect any conversation if I don't initiate it.
Yesterday, for a client, we evaluated several scheduling systems the ones I ended up signing up for were Buffer and Sprout Social. Initial reactions were Buffer is clunky, but it's cheap. Looks like Sprout Social is the best bet even though it doesn't handle Pinterest. We'll post a full review of tools that we use for Social Media.
Day 3 – more annoying
Ok, now I'm starting to look like one of those grumpy business owners complaining about the internet (you know who you are). So far all I've got from Twitter is spam – and now personalised spam in my inbox from Twits.
On the opposite end of the spectrum we're getting some really great engagement (and some spam) from the work we're doing with the New Zealand Chocolate Festival. The video campaign we did for them has had a huge impact… more on that later.
On a positive note I did connect with a lead, through a friend, via Facebook. Normally I avoid Facebook and only ever check – occasionally – for messages from friends (I've had all notifications turned off until now). It kinda odd now sharing stuff on Facebook.
Day 4 – low priority
Yesterday (day 4) was a manic day so, needless to say, Social Media didn't make the urgent and important list. However, I still managed to retweet a few interesting posts and follow people who followed me.
LinkedIn and Facebook haven't had much attention so they've remained static. Twitter has increase by 31 followers however most of them would qualify as competitors not leads.
Friday is the day I work on the business not in the business so there will be a bit more time to work on Social Media.
Day 5 – pump and dump
I seem to be getting the hang of this. previously if I read anything interest I'd bookmark it in Evernote. Now I also Tweet it and share it too.
The installation of "Click to Tweet" on articles is great, it make it really easy to roll stuff out regularly.
The "pump and dump" Twitter scheme is annoying – lots of bots following you, so that you follow them back, only to unfollow you the next day. So, shall I join them or ignore them?
Day 6 – habit
Wow! I had an interaction on Twitter with a human! Ok, so I knew them, but that was progress – yeah – that probably sounds funny if you're under 30.
Twitter is becoming a habit, which is good, yet to play with scheduling to even out the busy days.
The work we're doing for the New Zealand Chocolate Festival has been inspirational. Engagement on Facebook, Twitter, Instagram and Pinterest (to a lesser degree) has been intense. When we get a moment we'll create a Case Study so you can see what we did and, where possible, what the results were.
Day 7 – next
Day off today… although I still managed a few Tweets… ok, retweets.
Day 8 – a century
Today I got a congratulatory message from Twitter "you've now got over 100 followers".
The aims this week are to set up scheduling of useful content, so I am more consistent with my posting.
It's going to be a big week – this will be a challenge to keep on top of things.
Day 9 – automation
Today I'm back under 100 followers – shrug. The pump and dump seems completely futile… until I discovered this article on Twitter…
I Automated My Tweets for 30 Days and This is What Happened
It's an interesting article, which Tami Brehse shares my disdain for automated Social Media, but as she points out it's the robotic follow unfollow routine that's tiresome.
For me the important part of Social Media is to share useful ideas and content to help businesses grow… same with all our marketing. So, time to do some automation – not to attract automated Tweeps but to share valuable content (after I get these proposals out; which is after I stop procrastinating and writing to you).
Day 10 – sort of
For the last few days I've been slammed – massive amounts of work followed by an unintentional day off yesterday. Yes, I know the weekends aren't for working but we've had lots on, which is exciting and exhausting.
So, as a result I've discovered auto scheduling posts is worthwhile to cover those days where business is overwhelming.
Day 11 – Commun.it
Rob has been using an interesting plugin on his site called Commun.it which helps him automate interactions. You can easily schedule a "thanks for the follow" message. The dashboard has loads of useful information, including lists of who you should unfollow (generally people that aren't very active). Great tool – however – they will pester you with pop-ups, nag you via email… you have been warned.
Day 12 – working for me
Today was the first day – lying in bed with my feet up (Tendonitis in my Achilles… yeah, ouch alright) when I felt like the website and social media were working for me. Sure all the horizontal time meant I was a bit more active; but I had one definite and one probable (unconfirmed right now) connection. Encouraging for 12 days in…
Well, it still feels like I'm dabbling. I haven't finished my makeover yet, no posts scheduled and I haven't yet promoted any of my content… ok, maybe one post.
Day 13 – learning experience
Interesting how many sites I have looked at from people's twitter profile. So, it's fair to assume – with the right Call To Action – I can attract people to my site. The challenge is, as you've probably noticed, that most of them are icky internet marketers (yes, ironic) or shameless self promoters.
Still, hanging in there – it's a learning experience… and so much easier to do for other people.
Day 14 – workin' it
Today, it's fair to say, I worked it on Social Media…
The rough sequence of events:
I saw an interesting tweet, with a link to Forbes, about changes in the Facebook algorithm (who says Social Media is a waste of time?)
I retweeted the article…

Wow! Massive change from Facebookhttps://t.co/nd5Q7x6XCa by @forbes

— Webalite (@Webalite) July 1, 2016

Moments later I realised that this will affect my clients so I decided to write an article on LinkedIn
If it's going on LinkedIn it might as well go on my blog - paste, tweak, tweak.
Ok, if it's on LinkedIn I can promote that – Tweet.

"What the new Facebook changes mean for your Business Page" https://t.co/gryDoRjtJp by @Webalite on @LinkedIn — Webalite (@Webalite) July 1, 2016

And why not Facebook… oh, that's right my profile sucks… tweak, tweak, post.
Now, post on my profile and tag a load of friends that it affects.
Now, what was I doing before that
p.s. hours later… 1 x lead and 1 x troll.
Day 15 – tools
Figuring (guessing) most of my target market won't be on LinkedIn or Twitter as much over the weekend I decided to spread out some of my Posts using scheduling. So far I've tried a few scheduling systems including Social Sprout, Buffer, HubSpot and they all have limitations. Some don't shorten links, some lose all the formatting, some done convert URLs. So, most the time I just use the native apps.
Day 16 - allow access?
Today I did something I never thought I would do – gave Twitter access to my contacts! Why? Why do that? Or, why not?
Why not? I'm overwhelmed with apps trying to mine my contacts so they can spam my contacts, usually my knee jerk reaction is no.
Why this time? The people I follow, on Twitter, are mostly in the marketing or business space, not in the (my) real world. So, it makes sense to extend out into my network, and their networks more than the lucky dip, hoping someone clicks on my Tweet and gives me a job.
Day 17 – honest bot?
Wow, my first honest bot experience:
"This is my autobot DM saying hi and thanks for the follow. Let me know what you're currently creating?"
@DanielPriestly
I've found the auto DM (Direct Message) annoying. Originally I was going to set one up to say thanks for the follow but I got bombarded with so many pitches I shied away. Daniel's honesty is good, even if it is impersonal.
Day 18 - even while I sleep
I confess, I took a break for a few days.
While I was still active online it was a little less structured, maybe too unstructured. The good news was that even though I wasn't actively working Social Media I was still working Social Media… huh?
Let me explain, even after a couple of weeks I've started – habitually – logging in and nudging things along. Which is great. Every day, at least once, I find myself wading through the posts to find the gems – then forwarding, reposting or sharing the good stuff.
Although it's been a bit haphazard over the last few days we're still moving forwards.
Day 19 – Crowdfire
Today I decided to add some more automation to my Social Media.
Every time I get a new follower, in Twitter, I now send them this Direct Message (DM):
Hi, just a quick (automated) thank you for the follow. Looking forward to checking out your Tweets (in person). Thanks again – Mike Eastwood, Marketing Geek, Webalite. Please visit us at hubs.ly/H03znlY0 -via @crowdfire
Note the "-via @crowdfire" at the end of the Tweet – this is because I'm trying out the free version (for now). The most important part – I think – is acknowledging the automation and coming across as genuine. Also, Twitter now has no limit for DMs (Direct Messages) so it's worthwhile adding some extra copy, in this case the website. The strange URL is from the HubSpot URL Shortener. The actual URL has several "parameters" that make it easy for us to measure the success. For example when people click on the URL we can see the source: Twitter, the campaign: "Thank You for following" and more.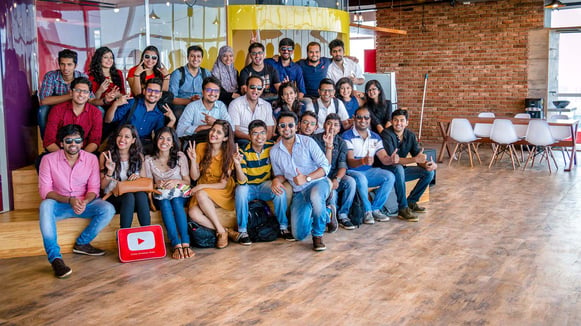 The service I decided to try out is Crowdfire. They have a free plan, with restrictions and the entry level plan is $6USD per month. To sign up you simply connect your Twitter account. At this stage the rest of their functionality seems really limited and/or clunky… let's try it for a week or two and see.
Day 20 – testing testing…
Ok, that really sums up the state of automation on Twitter.
While testing the HubSpot URL Shortener I posted a test Tweet:
Testing the #HubSpot URL Shortener https://t.co/S2Ygsgyjdt pic.twitter.com/M9FSG606A1 — Webalite (@Webalite) July 10, 2016
Hours later someone had retweeted… maybe they're funny too…
Shrug.
Day 21 – unfiltered
Once again a busy week, with work for clients and Webalite, has meant that I haven't been posting every day. The good news is that my Social media posts on LinkedIn and Twitter have become ingrained. So, every day I'm monitoring, replying, posting and sharing content.
For years I've used Evernote to capture, and tag, web pages I want to reference later. Now, where appropriate, I also share anything that is good enough to add to my list. Unfortunately not everyone is as discerning with their Tweets and I find myself having to sift through to find good content.
Day 22 - live events
Yesterday, at Grow With HubSpot in Auckland, was the first time I'd used hashtags for an event. It was interesting, and distracting, to follow the conversation happening on screen and on the stage.
#growwithhubspot in Auckland pic.twitter.com/VFacfGBfGi — Webalite (@Webalite) July 19, 2016
The hashtag #GrowWithHubSpot was on the bottom of every slide and the presenters did an excellent job of promoting Social Media by encouraging Selfies.
By following the hashtag I was able to check out other people in the audience, several of which I've followed. It was encouraging, after all the effort on Social Media, to see there were other people Tweeting with only 1 follower - even though number of followers is a "vanity metric" I felt better that I'd made it past beginner level.
Day 23 – progress
Ok, I confess the 30 Days of Social Media haven't exactly been consecutive… it's taken me 48 days to get to day 23.
However, Social Media is now a habit.
LinkedIn has been most worthwhile from a quality, rather than quantity (Twitter), perspective.
LinkedIn
With LinkedIn there's been good engagement with my content, especially the post What the new Facebook changes mean for your Business Page with 4 shares, 2 new connections as a result and 10 'Likes' but for me 'Likes' are a vanity metric in other words "so what". Connections has gone from 382 on Day 1 (12 June 2016) to 423 today (1 August 2016) only and increase of 11% but they are quality connections (I've avoided acquaintances that I wouldn't work with). LinkedIn, last month, accounted for 42% of Social Media traffic to the Webalite website.
Twitter
With Twitter @webalite has gone from 52 followers on Day 1 (12 June 2016) to 249 today (1 August 2016) an increase of 478%. However, this is another vanity metric. The quantity and quality of the traffic is poor with only 33% of Social Media traffic to the Webalite website. I know feel like I've got my head around it now and I'm ready to take it to the next level with the new content I'm creating. Basically, so far, most of the content I've shared is other peoples' content.
Facebook
Nothing to see move along. I haven't touched it yet.
Day 24 – Ok, I'm over it.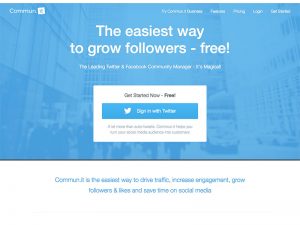 Avoid at all costs.
Using Communit.it is like being groped by a group of drunk guys on viagra just because you said hello to one of them a week ago.
They spam your inbox, spam your login, spam your interface, block you with pop-ups and the pop-ups put you into a loop of more pop-ups.
@commun_it is like being groped by a group of drunk guys on viagra because you said 'hi' a week ago — Webalite (@Webalite) August 5, 2016
So, my recommendation is to avoid Communit.it at all costs.
Finding out how to extract myself from their system wasn't so easy so here's a list of the main networks and how to remove unwanted access.
Day 25 – Share is the new like
Well, the days of posting a post vs. the days of posting on Social Media are out of balance. In other words I've been posting, and engaging, on Social Media almost every day of the week but these updates not so much.
Recent learnings:
"Share is the new Like". Because of the sheer volume of posts on all Social Media the old days of liking, so others see the posts, is over. There's just too much noise now. So, if you want to support someone's post the repost or share it.
Comment more often. A recent presentation challenged how often we comment. Recent comments posted on LinkedIn have strengthened some of the new connections I've made and more importantly encouraged the people publishing (I know how much effort it takes).
StumbleUpon shows in the Social Media section of Google Analytics and it does drive traffic to the website. I'm yet to see if it's relevant traffic however it does drive traffic.
LinkedIn is still giving the best and most relevant traffic to the website. And, now I'm commenting and sharing more I expect to see that grow. Also, rather than doing "status updates" I'm planning some long form content to post on LinkedIn.
Day 26 – Sanpchat?
Just signed up to Snapchat!
What am I a teenager? No.
Just protecting intellectual property by registering the username Webalite.
It's an easy way to protect your intellectual property without spending a fortune on lawyers.
Day 27 – Click to Tweet
I've used the "Click To Tweet" on other websites so much that, after some quick research, I installed the Click To Tweet plugin for WordPress. It's really easy, but I thought you may find this step-by-step guide useful. But first…
What is Click To Tweet?
It's a plugin (if you use WordPress) or a script (if you use a different Content Management System) where you can insert a Tweet that people can share with the click… pretty self explanatory really.
Here's an example:
@ClickToTweet makes it super easy. Here's how with #WordPress http://ctt.ec/_Bk8h+
Why Click To Tweet?
You do all the work once, which makes it really easy for anyone to share your content. In short people are lazy and they want to tweet more often. When they see you've done all the work for them all they have to do is click. Easy.
How much does it cost?
Free for up to 5 links. Just remember if you ever delete the link, or your account, you will have a broken link in your Tweet.
$4.97 USD per month for unlimited links and the do a discount if you pay for the year in advance, it's $49.70 (when we posted this in August 2016).
How to set up Click To Tweet.
If you're using WordPress you can follow these super easy instructions.
WARNING: there are several annoying and limiting features explained on the ClickToTweet Pros and Cons page.
If you're using another CMS (Content Management System) you can follow these instructions.
Day 28 – The Results
Just passed 400 followers on Twitter (it's taken roughly 10 weeks) so I thought I'd have a look to see who, what, how, when, where and why…
As you can see from the chart, in Twitter Audience Insights, the growth is reasonably steady just from regularly posting, following and liking others.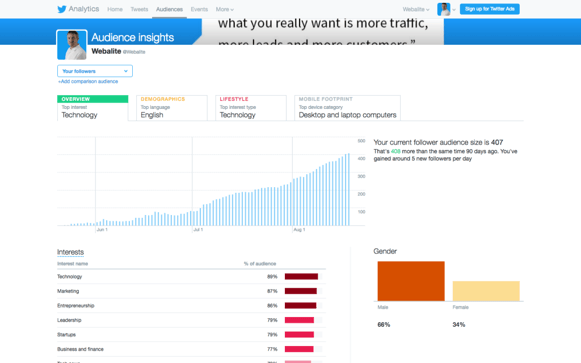 So far I haven't noticed any significant traffic in Google Analytics with 15% of all traffic from Social Media and only 9% of the Social Media traffic coming from Twitter. To be fair Twitter is second place (to SumbleUpon which accounts for 80% of Social Media Traffic. Based on the map which was generated on Tweetsmap, we can see only 8.5% of my followers are in New Zealand which – in my mind – is our most likely customer base (maybe that's limiting thinking). Interestingly 100% of mentions were in New Zealand.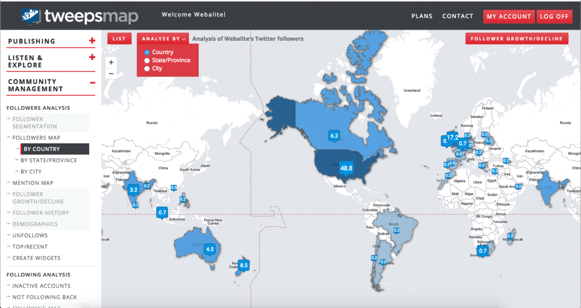 The time of the day will impact the amount of people seeing the Tweets. Here's an (ugly) chart from Tweriod to see what time of day followers on Twitter.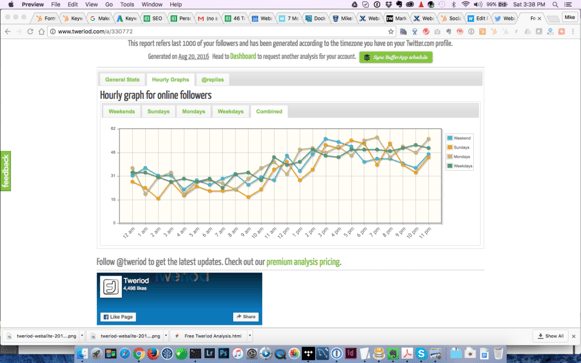 The interactions were even more extreme (partly because of the statistically low numbers).
Conclusion
Well, it wasn't an overwhelming success… I did gain some good habits:
Whenever I read some content that i think would be useful for other people I share it. It's good for everyone – the publisher, followers and me.
The interactions on LinkedIn far exceeded any other network (in saying that I just got a lead from Facebook).
Automation is good when it's authentic. The plan is to automate our content publishing so it's regularly shared. Any other ad-hoc sharing is an improvement rather than the main strategy.