Everything in the Marketing Funnel is built on the plan so before you build a new site, or change your old one, you need to start with a Plan.
"If you fail to plan, you are planning to fail!" ― Benjamin Franklin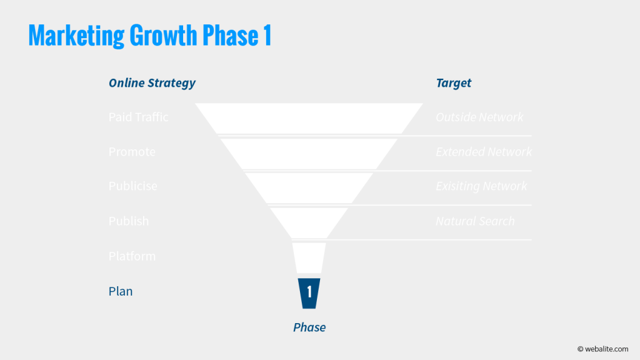 Website Plan & Strategy
Before we write a line of code, or setup any software we need to plan. The plan is a living document and – with regular review – we can build and improve the plan as we go.
Content Strategy
Content is king on the internet. Until we know what content we're publishing then it's difficult to build the website without building features that never get used or having to rebuild features that weren't what we wanted.
Social Media Strategy
The days of just having a website, an email address and a phone number have gone.
We need to plan how we engage on Social Media, how we drive traffic to our website and what to do if something on Social Media catches on fire.
Conversion Strategy
Converting visitors into leads is an important job for the website. We need to have landing pages, and other pages, optimised for conversion (information nuggets known as a Lead Magnets) so that we can exchange a visitor's email address for some useful content. Once we got the visitor's enquiry, now a Lead, we then offer them more targeted relevant content to help them along their journey to become a buyer.
Marketing Automation Strategy
Once the Visitor becomes a Lead we then nurture them through the Buyers' Journey with Marketing Automation. By sending them relevant targeted content we can continue to educate them as the progress through their Buyers' Journey. Rather than try and out-sell our competitors we out-educate our Leads so when they come to buy we're the obvious choice.
PPC (Pay Per Click) Strategy
Content Marketing works well however there is always a delay between publishing your first content and gaining a steady flow of traffic. To accelerate this process we can use Paid Traffic or PPC.
Paid traffic works because it delivers targeted adverts to the screen people are searching from. For example if you search Google for a pasta recipe you will be shown adverts relevant to pasta, cooking or other food related products. On Social media if you are interested in a particular topic then the advertising will relate to that topic (or one you previously searched for).