Right now you're looking at one of the 600 to 700 million websites online. And with over 3 billion people online the internet is a crowded, noisy place - so, how do we break through?
The key to penetrating the noise is to create an authority website and then market the site both online and offline.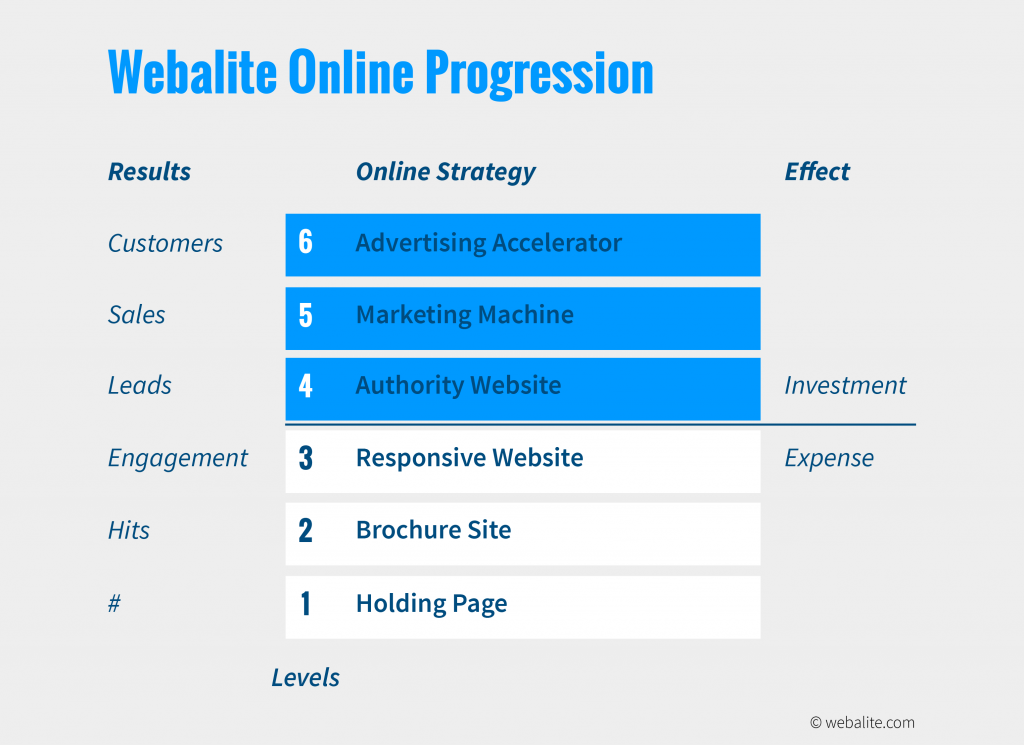 You've hopefully already surpassed level 1 and your designer and/or developer built you a website. You may even be getting a few "hits" - an outdated statistic that, in real terms, means server requests. A page containing four images and a stylesheet would result in six hits - the more images and elements on the page the higher the "hits". As you can appreciate, "hits" is no longer a useful metric.
And while a level 2 brochure website is a good start, ask if your website is "responsive"?
Responsive website
When I say "responsive" I mean responsive design - the geek definition of the word - where the design responds differently to different devices, giving the user a positive experience.
For example, we're in town and hungry. We've loaded up a restaurant's website on our smartphone, waited ... and waited ... for it to download, only to abandon the idea because their website is just awful - the links are unclickable, the images are still downloading. So we wander into the next establishment with an open door.
As of April this year Google will penalise your website - in the mobile search results - if your website is not mobile friendly.
By responsive I also mean does your website respond to your visitors' needs? To use our previous example, if the restaurant's website had their opening hours clearly displayed, or at least a phone number, we could have called them and they would have got our business.
From April 2015 a level 3 responsive website is the absolute minimum.
Authority website
The next step, once we have resolved the technical and design issues we work on content, call to action and lead magnet.
Content marketing is not new; the term "soap opera" is from the 1930s when dramas were played out over the radio to build an audience to market to. Soap opera is a literal reference to the products sold during the show: soap and detergent. Fast forward to the present day with the internet at our fingertips and things haven't changed. By building high-quality, useful content we can attract visitors.
Google rewards quality content by indexing it higher in the search engine.
So, the mission, should you choose to accept it, is to produce high-quality, useful content. Content attracts customers.
Once you attract your target market it's time to convert them. A call to action is a compelling headline to encourage an exchange. Usually the exchange is an email address for a lead magnet. A lead magnet is simply a piece of useful content to reward your visitor for giving you their email address.
The lead magnet should be inspiring enough to encourage your lead to visit your site again for more content (often via a call to action in the lead magnet). Also, now you have their email address you can send them other useful content and continue the relationship.
Now we've got our level 4 authority website running smoothly it's time to step up a notch.
Marketing machine
Now we're not going to leave it up to chance with a search engine. No matter how technically correct we are there's always changes, some unannounced, that can effect our page rank.
So what can we do?
Social media has exploded, and love it or hate it, you need to know what it can do for you. With some edits, headlines and planning, the content that you've laboured over can be publicised to your network and beyond.
Micro-blogging e.g. Twitter can direct traffic to your site and - if you satisfy visitors' need to consume content - they will stay awhile. Inspire them and they will share your content.
Scared of social media?
That's understandable. A non-scary way to promote your website is to email your network using an email newsletter system like Mailchimp. Free for up to 2000 subscribers means you can dip your toe in and experiment before spending money.
You may be happy taking your site to a level 5 marketing machine - congratulations. For those of us that want to push further, let's explore the next level.
Sales and marketing system
Now, are you ready to get things cranking? Email newsletters and social media are great but how can we ensure we get in front of even more prospects?
Pay for them.
No, I'm not talking about nefarious link-building schemes, nor buying lists. I'm talking about advertising both online and offline.
Nobody clicks on the ads ... do they?
Google's $350 billion valuation tends to disagree.
Your customers are targetable and, with the right campaign, convertable. Using Facebook, LinkedIn, Google or any other network you can target precisely who you want to attract. By defining your target market, their demographics and your budget, new customers are now affordable. And, because of the tracking data available you can hone your campaigns to give you the best ROI (return on investment).
Yes, I've landed multiple $400 jobs from a 4-cent click. Yes I've lost hundreds of dollars with not a cent in return. The art is to test and measure so you know what works and what doesn't.
Using a CRM (customer relationship management) system can be complicated but it's more advanced than an email newsletter system. You can automate your marketing, follow up unsuccessful results and measure your performance in detail.
And, if your business can manage it, now is the time to really work on your e-commerce systems. The investment in time and money can free your business from the day-to-day chores, giving you more time for improving the business, maybe even taking some time off (I'm yet to master that).