Our experience using Agile Project Management – for large websites and software development projects – means we can get the same benefits working on your marketing implementation.
With Agile Marketing the Tasks are grouped into Sprints which are short focussed periods usually a few weeks long. At the end of the Sprint we report back what's been completed before planning the next Sprint.
What is Agile?
Agile Management evolved and was widely adopted by the software development industry because of the failings of the Waterfall Project Management Methodology.
Previously, projects were fully designed and specified before any work started. This Waterfall approach meant all task dependencies were fully calculated and planned in advance. Waterfall meant there was a big delay before any work started and sometimes it meant parts of the project were developed even if the original brief had changed. Bottlenecks and dependencies meant some people sat round twiddling their thumbs waiting to work on their part of the project, which could be months late. Projects often came in late and over budget with features that were no longer required.
Agile evolved so project management could be more dynamic and adaptive. Rather than waiting for everything to be fully designed and specified we can focus on the most important and urgent features while the rest of the project is being refined.
A perfect example of an Agile Project was building a big software system for the Maui Gas Pipeline – we hadn't finished designing the entire workflow and yet, at the end of the first two-week sprint, you could log in to the site, change your profile and reset your password. None of the other functionality had been built, or even designed, however the user management module was production ready code delivered in the first two weeks.
Agile has loads of terms, jargon and even subcultures however the most important concepts are:
Tasks

every job is broken down into small predictable bite size pieces so we can accurately plan and estimate the time it will take to complete the task. We estimate the length of time it will take to complete the task using Story Points.

Story Points

a notional amount of effort to complete a Task. By using Story Points we can measure the amount of Story Points delivered in a Sprint. The number of Story Points completed in a Sprint make it easier to gauge how accurate estimates are making delivery dates more predictable.

Backlog

a list of Tasks, with Story Point estimates, that need to be completed. These could be recurring Tasks, issues to resolve or ideas that would be great to do later. By capturing all the tasks in the Backlog we can avoid anything being missed.

Sprint

Tasks are prioritised into a Sprint for execution. A Sprint is designed to last a short amount of time with a measurable number of Story Points. We usually schedule 2 – 4 week sprints depending on the size of the project and the budget available. By setting short Sprints we can accurately gauge delivery dates and times.

Burndown Chart

because every Sprint has a defined amount of Story Points we can accurately chart the completion of the Tasks and the probable delivery date. Because we use Story Points we can apply estimates to other Tasks in the Backlog to predict major milestones like the Minimum Viable Product (MVP).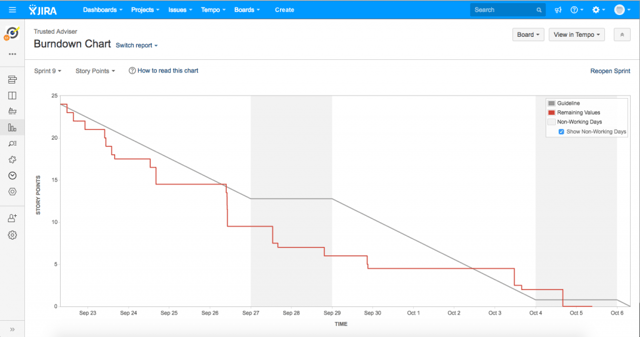 Agile Marketing
Marketing has planned tasks, recurring tasks and opportunities (and crisis) that can be unpredictable. By using Agile Methodology we can be more responsive to unplanned events and maintain the implementation of the Marketing Plan with the regular and recurring tasks. Working with you we can plan and prioritise Sprints so we can focus on the most urgent and important tasks.