Images are an important part of excellent content. Lots of us are visual and for some people - hello designers and architects - you want almost no text and all images. However, you can do both!
Adding images to your WordPress Website is important – images, and other media, make your site more interesting for the visitor and search engines too.
The important thing to remember with images is to add "Alt" tags so screen readers - for the visually impaired - and search engines can consume your content. It's easy to do, let's get started.
Add Media (images) to your Page or Post
Decide where you want put your image
It's easier to decide before you add the image than move it around later. With websites things don't always appear where you think they will so it may take a few attempts - don't worry - there is an undo button
Move the cursor to where you want the image
The button to add images and other content Click the Add media button
Yep, the one with the camera and music icon.
Select Your Image
If you have already uploaded an image you can choose it from your Media Library - simply click the Media Library Tab and choose your image and jump to step 9, if not
Click the Upload Files tab (if it's not already selected)
Click the Select Files button (which is the easiest – in my opinion – you can drag and drop if you want to)
Choose a file on your computer (see notes on image format below)
The file will upload to your server
Set the Caption, Alt text, Description and choose your Display Settings Now we need to edit the image details so whenever we use the image all the work is already done.
So, in the form on the right edit the Title, give your image a Caption and add the Alt Text.
Now we need to decide on the Attachment Display Settings.
You can align the image left, center or right.
You can decide on the size - if it's a big image you will want to make it smaller on the page. Whereas most of the images on this page work well at the actual size (100%).
The Link To Option allows you to link to the original file - this is useful when you want people to be able to look at the image on it's own. For all the images on this page I decided to have no link so that people couldn't click on them - too distracting and they're full size images anyway. You decide, you can always change it later.
Now Preview your Page or Post to make sure the image is doing what you want.
You can edit the image position and details at any time by clicking on the image and clicking on the Pencil (edit) icon.
Preview your page again to make sure you have the image where you want it.
Choosing an image format
We recommend using "High" Quality (9) images.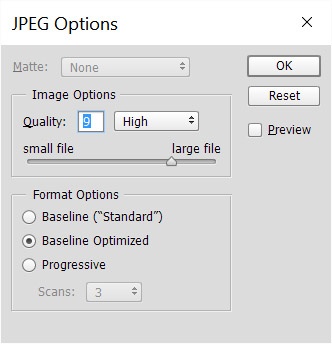 File size is important - you want it big enough so it's high resolution but small enough to download fast. You want the quality high enough to look good but small enough to download fast. So, my recommendation is you use a JPEG file format which is 1024 x 768 pixels and compressed to High Quality (9) so it still looks good.